It's not often you hear about stabbings at gay clubs, but that's what happened last night at Orlando's Parliament House: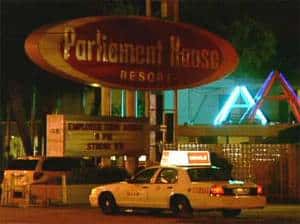 "It happened around 1 a.m. Wednesday at the Parliament House on Orange Blossom Trail in Orlando. According to police, four people got into a fight in the bathroom. Police said two men were stabbed by one woman and one man. A third man was trampled during the incident, but he was not seriously hurt. The two stabbing victims were taken to Orlando Regional Medical Center. One man is in critical condition and the other in serious condition. Two men were arrested at the scene. No names have been released."
According to MyFox Orlando: "Investigators checking witness statements to determine what exactly started the fight, which may have been a result from an earlier altercation last week."
In March 2007, there was a shootout at Studz bar in Orlando, and in June 2006, we posted about an attack and robbery that occurred outside the Parliament House.
You may have missed…
Orlando Orders Male Nipples Erased from WWE Billboard [tr]