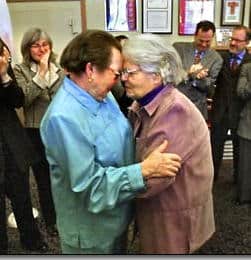 Split Decision: A majority of California voters oppose a ballot initiative to ban gay marriage, though they are evenly split on the practice itself, according to a poll released Wednesday.

Recognized: Gay rights activist Del Martin receives a New York Times obituary.

Jonathan Moscone, the gay son of former Mayor George Moscone, has no plans to see the new biopic "Milk" set for release this fall. Seeing his father's assassination recreated on film is still too much for the 43-year-old Moscone to bear.

John McCain will announce his vice presidential running mate at event in Ohio late on Friday morning. But those who want to know first can sign up to receive the information early via telegram.

Lesbian.com: A woman wearing a T-shirt promoting lesbianism said she was forced the leave a federal building Monday by a security guard who didn't approve of her attire.

Trouble in Andyland? Andy Roddick had no problem with his first-round U.S. Open opponent, Fabrice Santoro of France. But word did leak out that his brother John is no longer coaching him, news that comes about six months after parting ways with Jimmy Connors, too.

A new study finds that the virus that causes AIDS is spreading in New York City at three times the national rate — an incidence of 72 new infections for every 100,000 people, compared with 23 per 100,000 nationally.

New research from a lesbian, gay, bisexual and trans civil rights group has revealed that 94 percent of Fortune 500 companies include sexual orientation in their employment nondiscrimination policies.

Murder, He Wrote: Peter Manso is writing a book about the high-profile murder of fashion writer Christa Worthington on Cape Cod. And now he's run afoul of the same justice system his book promises to expose as corrupt. Last week a Barnstable County grand jury indicted him on 12 charges, including felony counts, the most serious of which — possession of an assault weapon — carries a maximum sentence of 10 years.

FourFour interviews Margaret Cho about her new reality sitcom, "The Cho Show," and learns about her hilariously unpleasant run-in with Sharon Stone back in the "Basic Instinct" days.

Dedication: A team of six gay and lesbian young adults trekked across Phoenix through blazing heat to raise awareness about Arizona's upcoming ballot initiative to constitutionally define marriage as between a man and a woman, aimed at banning same-sex marriage in the state. Temperatures during the week-long, 96-mile pilgrimage averaged 105 degrees.

Logo Transylvania? Homosexuals in Romania are to get their own online TV channel, dedicated to "the life and problems of the gay community," starting Oct. 1, its creators said Monday.

Express Gay News, the South Florida GLBT newspaper edited by Dan Renzi, has just gotten a makeover and relaunched as the South Florida Blade.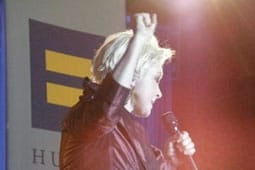 Barack Obama lands the highly coveted Cyndi Lauper endorsement. (Sigh of relief!)

A gay rights group in Alabama is filing a lawsuit against the mayor of Birmingham for not allowing city workers to hang banners supporting Gay Pride Week.

A trial began Tuesday in Washington in a lawsuit charging the Library of Congress with engaging in sex discrimination by refusing to hire a transgender woman as an anti-terrorism expert.

Hosting Duties: Live from New York, it's Michael Phelps!

Costly Post: A blogger suspected of streaming songs from the long-overdue Guns N' Roses album "Chinese Democracy" on his Web site was arrested Wednesday and appeared in court, where his bail was set at $10,000.

Michael Jackson turns 50 on Friday. Here's a celebration of his life before he was bad.