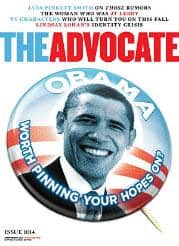 According to The Bay Area Reporter, The Advocate will go monthly beginning in January.
The Advocate's new editor-in-chief Jon Barrett broke the news at a luncheon at the National Lesbian and Gay Journalists Association's LGBT Media Summit in Washington, D.C. today. Said Barrett: "I don't think there is a need for a biweekly magazine anymore with the Web. We will have more room for bigger stories and we're going to get better writers. You will see more news in the magazine."
He said other changes include a move away from entertainers on the cover and said they'll stop asking straight actors "what it's like to kiss a man." Of course, that may not stop them from volunteering such information.
The Advocate and OUT were purchased from PlanetOut by Regent Entertainment last spring.