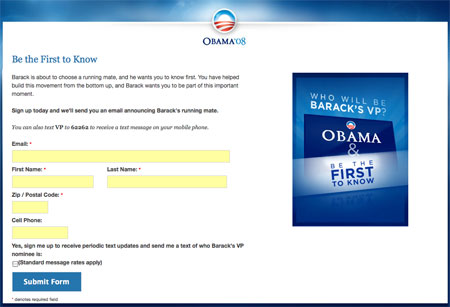 We are in a new age. The WaPo notes:
"Last night, in a cell phone text message that was quickly followed by an e-mail linking back to a new page on his Web site — my.barackobama.com/vp — aides to Sen. Barack Obama's (D-Ill.) campaign wrote: 'Barack will announce his VP candidate choice through txt message between now & the Conv. Tell everyone to text VP to 62262 to be the first to know! Please forward.' Note three things: the casual reference to the candidate ('Barack'); the call to 'forward' the text (to friends, relatives, etc.); the perceived personal appeal of being 'the first to know'; and the timing — the text was sent two weeks before the Democratic National Convention kicks off. That gives plenty of time for the text to be passed around. It also gives the Obama campaign one more way to differentiate itself technologically from its Republican opponent; Sen. John McCain (R-Ariz.) doesn't have a text messaging program."
Be "the first to know" here.