Brandon McInerney, the 14-year-old teen accused of shooting and killing his classmate Lawrence King in February in their classroom in Oxnard, California, pleaded not guilty yesterday to the charges of premeditated murder and a hate crime: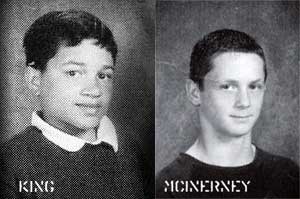 "McInerney, who has been held in the county's juvenile hall since his arrest, wore inmates' clothing of a white T-shirt and dark pants when he appeared in the Ventura courtroom. When Superior Court Judge Edward Brodie asked McInerney if he understood his rights, the boy answered 'Yes, sir,' in a strong voice. The teenager's divorced parents, Kendra McInerney and William McInerney, sat in front of the courtroom during the brief proceeding. His mother, visibly upset as she watched her son inside the prisoners' holding area, hurried out of the courtroom. The boy's father followed. Both declined comment."
McInerney continues to face charges as an adult pending another hearing set for the end of September.
"If the case were moved to juvenile court, Quest said, he would plead to whatever charge the district attorney wants. The maximum sentence allowed in that court would be confinement in a state youth facility until age 25. Prosecutors say youths who commit homicides are typically paroled after seven years, but Quest said that is unlikely in this case. If the case stays in adult court, McInerney's only hope is reducing the charge to manslaughter, Quest said. 'That is the only way Brandon does not die in prison,' he said."
King's father supports McInerney's trial as an adult: "He went into a classroom in front of other students and shot my son in the back of the head twice. My son his dead. For his age to be taken into consideration — he didn't take my son's age into consideration."
Footage from the McInerney arraignment back in May, AFTER THE JUMP…
McInerney pleads not guilty, lawyer calls charges 'death sentence' [ventura county star]
PReviously
Lawrence King's Killer Brandon McInerney to be Tried as Adult [tr]
McInerney Lawyer Promises Not to 'Gay Bash' in Lawrence King Case [tr]
Arraignment of Teen who Killed Lawrence King Postponed [tr]
Attorney for Lawrence King's Killer Faults School for Shooting [tr]