On Wednesday night's O'Reilly Factor, Mr. T defended himself and the homophobic Snicker's speedwalker ad pulled by Mars: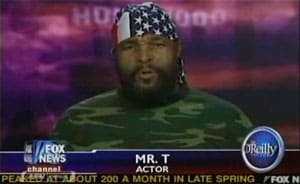 "To whom it may concern. Let my record speak for me. I am not homophobic. I am not a gay basher. I did not say anything that was negative nor derogatory nor disrespectful nor malicious, and I would never do a commercial if I thought it was offensive to anyone. Bill, speedwalking is an Olympic sport and that's the way speedwalkers walk. And the phrase 'get some nuts' refers to Snicker's candy bar having more peanuts. In the movie Rocky III I call Rocky Balboa a disgrace to boxing because he wouldn't fight a real man. There was no problem nor no complaints. March 31, 19896, the first Wrestlemania, I called this wrestler Roddy Roddy Piper a disgrace to wrestling because he was a dirty wrestler. No problem. No complaints. On the A-Team, I called the bad guys a disgrace because they was harassin' helpless people. No problems. No complaints. I have been pityin' fools for 28 years Bill, and it was never personal. Why didn't somebody talk to the actor who played speedwalker? He will tell you about my character."
While the ad is clearly homophobic, is there a way to test the legitimacy of the complaints? Shoot the ad again. This time use the most masculine man you can find, and don't focus on the swishy ass. Would the ad get its point across using the same script? Does anybody think the phrase "get some nuts" refers just to peanuts and not testicles? I don't think so. It clearly only works when effeminate stereotypes are present, stereotypes that have been used time and time again to defame gays.
Watch the O'Reilly clip, AFTER THE JUMP…