Anti-gay bigot Marylin Shannin and her minions were handed a defeat by a federal court yesterday which ensured that domestic partnership laws in Oregon won't be up for a challenge on the November ballot: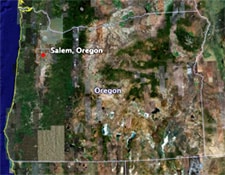 "The 9th U.S. Circuit Court of Appeals rejected a lawsuit that sought to force a vote on the law, which was approved in 2007 Oregon Legislature and went into effect earlier this year. More than 2,200 gay and lesbian couples have registered for domestic partnerships since the law took effect in February. Opponents of domestic partnerships contended in their suit that Oregon elections officials improperly rejected valid signatures on petitions that sought to put the law to a public vote in November. The 9th Circuit ruled that the state's procedures for counting signatures didn't violate Oregon's Constitution. 'Oregon's signature verification standards are uniform and specific enough to ensure equal treatment of voters,' Judge Ted Goodwin wrote for a three-judge panel. Thursday's ruling was a serious setback for gay-rights opponents, who now face the prospect of waiting until 2010 before they can qualify measures for the ballot."
The domestic partner laws went into effect in February, and were challenged shortly thereafter.