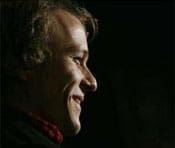 The Federal government has dropped an inquiry into the source of the oxycodone and hydrocodone found in Heath Ledger's body at the time of his death:
"Prosecutors in the U.S. attorney's office in Manhattan had been overseeing a Drug Enforcement Administration probe into whether the painkillers found in Ledger's system were obtained illegally. But the prosecutors have bowed out 'because they don't believe there's a viable target,' said the official, who spoke on condition of anonymity because no charges have been filed."
How many months did they spend on this? What a waste of time and money.