A British councillor has been cautioned after being accused of a hate crime for hurling an anti-gay slur at a rival's mother: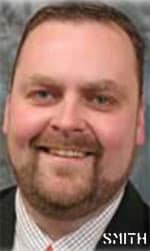 "Deputy leader of Barking and Dagenham council Liam Smith is said to have told the 60-year-old 'shut up you f***ing fat dyke' and 'go back to the farmyard' after a trivial argument in the council chamber. The Labour councillor lost his temper after watching the Conservatives snatch a seat in a by-election last month. When Sue Connelly, mother of local Tory councillor Neil, got into a minor row with him at the count he verbally abused her in front of shocked onlookers. Mrs Connelly, a married grandmother of eight who is not gay, was shocked by the tirade. She said: 'I was so stunned that I didn't know what to say in reply. To be spoken to like that in the council chamber in front of so many people was awful. I felt humiliated. I am not a lesbian but I have nothing against them and that word should not be used to insult anyone. It was vicious, nasty and homophobic. He should step down or be told to go.'"
Smith was ordered to write a letter of apology.