The family of murdered teen Lawrence King has filed claims against their son's school, which place much of the blame for his death on the school's dress code: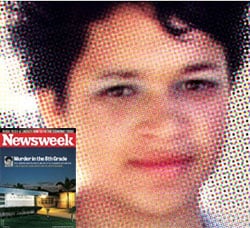 "In the claims, the Kings say school and county staff members failed to enforce the middle school's dress code. That put the feminine-dressing King at particular risk at a time when staff members knew he had 'unique vulnerabilities' and was 'susceptible to abuse' because of his perceived sexual orientation, the claim says. The family says educators knew the boy was at risk because he had been subjected to death threats at Hathaway School, an elementary campus he attended in Oxnard. King had told friends he was gay, and he wore makeup, jewelry and high-heeled boots with his school uniform — something Dannenberg said the teen had the freedom to do under his First Amendment rights. Assistant Principal Joy Epstein, the only person named in the complaint, is accused of encouraging the boy to wear 'women's clothing, shoes and makeup.' She created an environment of 'perceived safety' for King when 'in fact she could not and did not protect Larry from the threats and ultimate death,' the claim says."
The county's risk manager says he expected to reject the claim. According to the VCS: "King was a ward of the court and living at the Casa Pacifica shelter for abused, neglected and emotionally troubled children at the time of the shooting….Officials should have educated him at the Casa Pacifica shelter, where he would have been safe, instead of sending him to E.O. Green, the complaint alleges. Casa Pacifica administrator Steve Elson said the county had stopped offering classes on campus in the wake of a federal law aimed at keeping kids in their normal neighborhood schools. Still, the agency would have tried to accommodate a student if school or county officials were concerned about safety, he said."
King's killer, Brandon McInerney, recently entered a 'not guilty' plea in connection with the murder and hate crime.
For all our Lawrence King coverage, click here.