I've updated yesterday's Manhunt/McCain post with an email from one of our readers who canceled his Manhunt account received from them. It reads: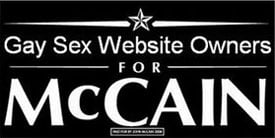 ***
Dear Sir, We are always happy to hear from our members, thank you for taking the time to express your concerns. The subject that you have brought to our attention is a personal matter and is not representative of MANHUNT. We thank you for your understanding.
Sincerely, Team MANHUNT
***
It's not representative of Manhunt the company, of course. Only Manhunt's owner Jonathan Crutchley, who is raking in millions of dollars from gay men around the world and donating some of it to help elect a presidential candidate who opposes same-sex marriage and adoption by same-sex couples, supports "Don't Ask, Don't Tell," and opposes ENDA. He has also also said he doesn't know whether or not condoms prevent the spread of HIV.
(banner via the gist)