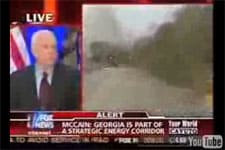 I caught this yesterday afternoon on CNN, and nearly spit out my drink. I'm glad somebody else did too.
John McCain on the Georgian invasion: "I am interested in good relations between the United States and Russia. But in the 21st Century, nations don't invade other nations."
Except, of course, when a Republican president who believes in pre-emptive war is in the White House.
Watch it, AFTER THE JUMP…