Not only does he wear Prada shoes, but he's the first Pope since Pope John XXIII in the 1960s to wear the camauro, an ermine-trimmed red velvet hat. He's also been wearing a cape trimmed with ermine.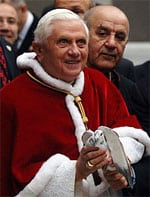 TheGuardian reports: "But his use of ermine, long favoured by kings, judges and nobles, has drawn the ire of the Italian Association for the Defence of Animals and the Environment, which had by yesterday gathered 2,260 signatures for its petition. "The pope has often talked about protecting the environment and we are asking that he acknowledges that animals, as God's creation, also deserve respect," said the organisation's head, Lorenzo Croce. Benedict's use of fur was defended yesterday by Cardinal Andrea Cordero Lanza di Montezemolo. 'Aren't there more important battles to wage?' he asked. 'There are human beings who merit more urgent assistance that no one is taking care of. And if we eat animals, we can wear them.'"
The paper notes that before he became Pope, Benedict said "Animals too are God's creatures…creatures we must respect as companions in creation and as important elements in creation."
I'd say watch out for PETA and a bucket of paint.