Yesterday I mentioned that The Catholic League's Bill Donohue would guest on Michelangelo Signorile's Sirius radio show to discuss his demand that the DNC pull Towleroad's press credentials for the Democratic National Convention in Denver. Signorile sent out these clips today.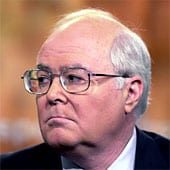 Donohue called on Convention CEO Leah Daughtry to "nix" Towleroad and feminist blog Bitch Ph.D.'s media credentials at next week's convention. According to Donohue, we are the "most offensive" of the more than 120 blogs offered credentials.
Said Donohue: "Towleroad describes itself as 'A Site with Homosexual Tendencies.' Accordingly, it shows men in jock straps and underwear. It also has a post on Pope Benedict XVI that takes him to task for wearing a cape with ermine. Some of those who commented on this described the pope in a vile and profane way. Both of these blogs should be cut immediately from the list of credentialed sites. Neither functions as a responsible media outlet and both offend Catholics, as well as others. To allow them access to the Democratic National Convention sends a message to Catholics they will not forget."
I responded to Donohue in this post.
Below, in the first clip, Signorile has a general discussion about Donohue's 'call to action' for the DNC:
In the clips below, Donohue reads specific comments from the blogs that offend him, and attempts to link the Catholic Church sexual abuse scandal with the bathhouses of New York in the 80's. Signorile also gets him to respond to "cheeky" comments Donohue he once made about Signorile's ass.
Thanks to Mike for taking this on.
In the Jaws of the Pit Bull [the gist]
Background
Catholic League's Bill Donohue To DNC: Pull Towleroad Credentials [tr]
Respecting God's Creation: The Pope Wears Ermine [tr]