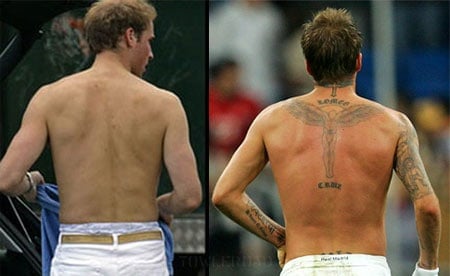 One of Prince William's military pals told UK tab The Sun that the future king was interested in a massive back tattoo:
"Lots of the guys onboard sport tattoos. It was obvious William was fascinated. He asked how painful it was and wanted to know what they thought of his idea for a tattoo across his shoulders. We didn't think he was serious — but he said he was keen to get a large tattoo like the one David Beckham has. He said the only thing stopping him was his girlfriend. He was worried she would think it was a bit too chavvy."
Surely her majesty wouldn't approve.