Seattle filmmaker and former city council candidate injured in anti-gay assault: "Cogswell and his friend were taken to the hospital, where Cogswell received five stitches in his cheek, and doctors found that his right orbital bone—one of the bones around the eye socket—had been fractured and his front teeth badly chipped. Cogswell says there's a possibility that his fractured orbital bone could pinch a nerve or a muscle and require surgery. Cogswell's friend had with scrapes and bruises."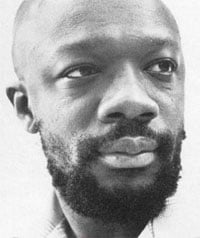 RIP: Isaac Hayes dies at 65, Bernie Mac dies at 50.

Both Obama and McCain are reportedly heavily courting the vote of one particular celebrity who has so far held out from making an endorsement – guess WHO it is.

Gay Mormons reach out to LDS leaders: "They want the church to teach Mormon families to love and respect their gay sons and daughters, help gays and lesbians feel safe at church and to reconcile their sexual orientation and their spirituality. Affirmation had planned to make these points Monday when they were scheduled to meet with two LDS officials from the church's social services, but last month the church postponed the meeting indefinitely, said Dave Melson, Affirmation's assistant executive director, on Saturday. Instead, the LDS gay support group will present its proposals to the public at a Monday press conference."

Why is ABC so fixated on Edwards' affair and not on McCain's adultery?

Athletic supporter: George W. Bush displays class at the Olympics.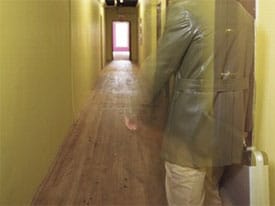 Scientists in process of rendering invisibility: "Scientists have taken another step toward the goal of rendering objects invisible using high-tech cloaks that redirect light…"

Some aren't happy about a new bike lane being proposed in NYC's Chelsea district, down 8th avenue.

UK Sussex police force tells citizens to get on the beat, but sends them to a far different instructive website than they were expecting: "Designers at Sussex Police encouraged locals to get involved with Operation Beat Sweep, but directed them to a website advertising hardcore porn, policemen strippers, explicit gay movies, brothels and 'sexy adult costumes'. Instead of www.sussex.police.uk, the flyers carried the address www.sussexpolice.co.uk – a rogue site not linked in any way to the force."

Michael Petrelis checks in on gays in Georgia following the Russian invasion.

Big Brother 10's Ollie uses "faggot" slur.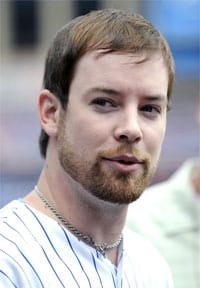 American Idol David Cook suits up for the Mets.

Costa Rican gay inmates denied conjugal visits: "The Constitutional Tribunal rejected a former inmate's appeal in a lawsuit against prison authorities who suddenly stopped his weekly conjugal visits to his partner, a current inmate he met when both served time in the same jail. The high court's brief ruling said the prison authorities' decision 'falls within the scope of their rights, duties and powers'."

Bravo plans for life post-Project Runway: "Another ingredient in Bravo's success is that 'we're a very gay-friendly network,' Berwick says. Back during the late '90s, she continues, 'we saw the impact in the ratings of gay-themed movies and a series we ran called 'My Fire Island,' ' an acquisition from England's Channel 4 about a gay couple and a lesbian couple and their summer-house time-share. So when the idea for 'Queer Eye for the Straight Guy' came across Berwick's desk in 2003, she didn't have to agonize before flashing the green light. Within a year, 'Queer Eye' had taken off like a comet, becoming the biggest hit in Bravo's history and bringing lots of viewers to the channel for the first time."

Bill Maher on the Olympics: "The Olympics are pretty gay. Have you seen the opening ceremonies? Makes Cirque de Soleil look like a John Wayne movie. It's become so feminized. We have to find out that the javelin thrower is fighting diabetes and he was brought up in an orphanage."

Pilot lands plane using text messages.