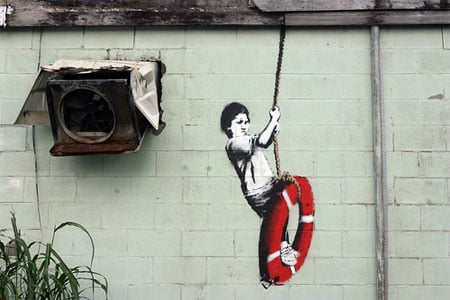 Earlier this month I noted that street artist/prankster Banksy, whose graffiti works (even the ones peeled from the sides of buildings) have been fetching hundreds of thousands of dollars at auction, made a swing through the city of New Orleans, leaving some fairly poetic and remarkable images in his wake.
The Times Picayune reports that one of those images, of a carefree boy swinging on a life-saving ring, has been painted over, destroying what might have been a small fortune for the owner of this damaged building.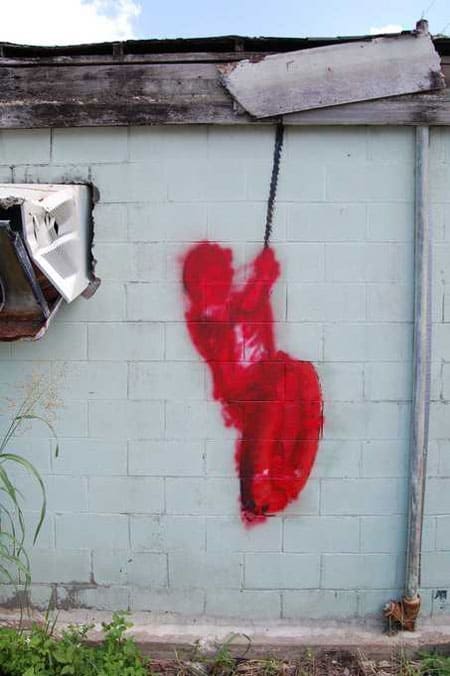 To my surprise, while browsing through flickr, I actually found a photo of the 'genius' who covered it up caught in the act: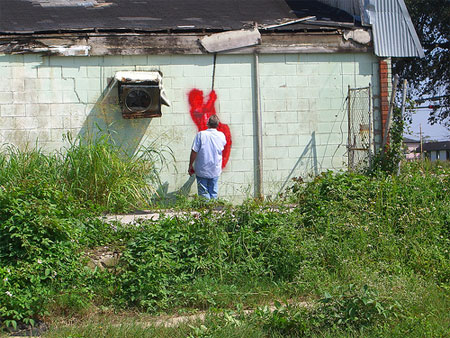 The flickr user writes: "after driving all over with no specific locations or idea of where i was going, i inadvertantly saw this one from across the street. (boy on life preserver) by the time i could turn around in traffic and get back to it, to take a picture, this dude was already DONE spraying over it with red paint! i have no idea who he is or where he came from… he turned around and saw me taking pictures of him and started yelling at me. i could see him walking back across the street to the convenience store on the other side of the intersection in my rear view mirror as i drove away…"
To check out more of Banksy's New Orleans work, click here.
(image top – flickr user aboxcarnamedruin)
(image bottom – flickr user artbymags)