Oh, please.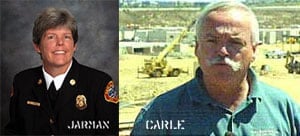 Fire Chief Tracy Jarman and Assistant Chief Jeff Carle, who marched in the San Diego Gay Pride parade with the four firefighters who are suing the city because they say they were "harassed" while marching, testified yesterday in the case.
Said Carle: "They were pretty upset. And it got to the point where they asked for some help."
The San Diego Union Tribune reports: "That night, the four requested critical-incident stress debriefing, or the same type of emergency counseling offered to firefighters dealing with on-the-job casualties and other grief, Jarman testified. Carle met with the four during their next shift. They told him they wanted a policy drafted to protect firefighters from having to attend gay pride parades against their will. Less than two weeks later, on Aug. 1, the four met with Carle, Jarman and Javier Mainar, the department's other assistant chief. Carle testified that Mainar told the four they were acting like hypocrites, and said he doubted they would have similar issues if women – not men – were making the catcalls. Jarman told jurors: 'I assured them what happened to them wouldn't happen again.'"
Here's what they're complaining about: "The four men say they suffered emotional distress because of what they saw and heard: cat calls, simulated sex acts among men wearing nothing but briefs, and lewd comments and gestures."
Imho, their homophobia may make them unfit to serve. If they needed counseling for post-traumatic stress disorder from seeing the same kind of hetero-nonsense gay people have to observe on an average trip to Las Vegas, there's something intrinsically wrong here.
The city's firefighters have participated in the parade for the last 15 years without incident.
Fire chief recounts gay pride parade [san diego union tribune]
Previously
San Diego Firefighter Gay 'Harassment' Trial Begins [tr]
San Diego Firefighters Claim Threats After Gay Pride Complaint [tr]
San Diego Firefighters Sue Dept for Gay Pride Sexual Harassment [tr]