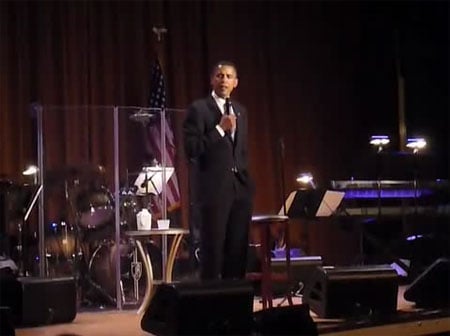 Our friend and contributor Lewis Payton (you've seen many of his photographs on these pages), attended the Obama fundraiser last night in Beverly Hills, and sent us this exclusive report, which includes video of Obama's speech, in two parts. Part one is below, part two AFTER THE JUMP:
An estimated 800 guests turned out at the Regency Beverly Wilshire hotel in Beverly Hills last night. With performances by Ben Harper and Barbra Streisand, a relatively somber Barack Obama spoke to the celebrity filled crowd, all of whom contributed at least $2500 each to attend. "This should be a celebratory evening," he said. "But the truth is that I'm in a different mood tonight. Partly because we saw this week a storm sweep through the gulf, and over the last few days we've had news of the worst financial crisis that we've had in generations."
Obama spoke, without notes or teleprompter, for 20 minutes. While media were banned from the event, his speech left no doubt as to why he was in town. "It's nice to have Barbra and Ben singing, but that's not what this is about. It's about a struggle for the future, a struggle for the next generation, it's about who we are as a country and who we are as a people, and this is a serious fight, and I intend to win it, but I'm going to need your help."
The event, along with the $28,500 a head dinner that preceded it, was estimated to raise over $9 million for Obama's campaign. McCain's campaign attacked the event as "another example of Obama's out of touch celebrity," even though McCain guested at a similar, albeit far less successful, fundraising event in Hollywood last month.
— Lewis Payton
Part two of Obama's speech, AFTER THE JUMP…
You can visit Lewis at his website…