The L.A. Times today ran a profile on Robert Sanchez, the Metrolink train engineer who died along with 24 others when the train he was guiding collided with an oncoming Union Pacific train last Friday in the tragic accident that injured 135 other people.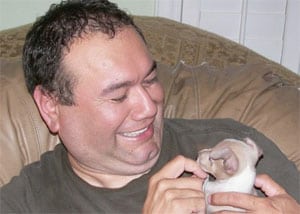 Among the things that the profile reveals is that Sanchez was gay and had a lover who committed suicide five years ago:
"In the years before his death, Sanchez led a nomadic life, with public records showing addresses in Oregon, Colorado, Nevada, Arizona, Nebraska and California. In 2000, he and Daniel Charles Burton, a waiter, bought a home in Crestline. Burton moved to California from West Haven, Conn., his family said, seeking better weather and the freedom to be gay. No one in Burton's family knows how the two men met, but Burton and Sanchez ended up living together in Studio City before moving to the San Bernardino Mountains. On Feb. 14, 2003, Burton hanged himself in the garage of their home. 'Rob, Happy Valentine's Day,' read a note Burton left behind that his sister Carolann Peschell kept. 'I love you. Please take care of yourself and Ignatia. I love you both very much. Daniel.' Ignatia was the greyhound the men owned. The coroner's report showed that Burton tested positive for HIV."
Continued, AFTER THE JUMP…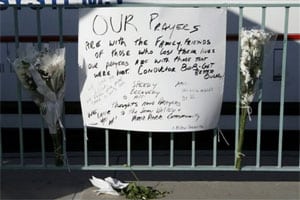 The paper notes that Sanchez had some issues around the time of Burton's suicide which involved an arrest for shoplifting and some traffic and tax infractions.
More: "In 2006, Sanchez moved into a modest, two-story home in La Crescenta along with his four greyhounds. A neighbor there, Oliver Amelsberg, 83, described Sanchez as polite but guarded, someone who liked talking about trains over the backyard fence but didn't reveal much about himself…Amelsberg said Sanchez once told him that he knew some teenagers enamored with trains that he'd occasionally wave to on his route. 'He only said that once, but I thought about it when they mentioned they were sending messages' over cellphones, Amelsberg said. Investigators are looking into reports that Sanchez may have been text messaging a group of teenage rail enthusiasts just before the accident, and the NTSB said Tuesday that it had subpoenaed cellphone records to examine the engineer's text messages."
A sad coda to a tragic event. May all those killed rest in peace, and all those injured recover.
Metrolink 111 engineer led solitary life marred by tragedy [la times]