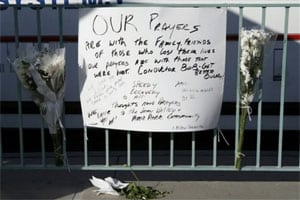 The paper notes that Sanchez had some issues around the time of Burton's suicide which involved an arrest for shoplifting and some traffic and tax infractions.
More: "In 2006, Sanchez moved into a modest, two-story home in La Crescenta along with his four greyhounds. A neighbor there, Oliver Amelsberg, 83, described Sanchez as polite but guarded, someone who liked talking about trains over the backyard fence but didn't reveal much about himself…Amelsberg said Sanchez once told him that he knew some teenagers enamored with trains that he'd occasionally wave to on his route. 'He only said that once, but I thought about it when they mentioned they were sending messages' over cellphones, Amelsberg said. Investigators are looking into reports that Sanchez may have been text messaging a group of teenage rail enthusiasts just before the accident, and the NTSB said Tuesday that it had subpoenaed cellphone records to examine the engineer's text messages."
A sad coda to a tragic event. May all those killed rest in peace, and all those injured recover.
Metrolink 111 engineer led solitary life marred by tragedy [la times]