Last month I posted about Kathy Gilleran, who has been searching for her son Aeryn since he went missing in Vienna, Austria in October 2007. It's a sad tale which seems to get more hopeless by the day: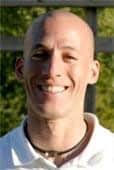 "Co-workers last saw Gillern on Monday, Oct. 29, about 6:15 p.m. when he left work. He had hosted his partner for the weekend and dropped him off at the train station to start the day, Gilleran learned. When he failed to show up for work the next two days, Gillern's partner and his upstairs neighbor went to the police to file a missing person report. They were told that Austrian police were not required to take missing persons reports on non-citizens and were sent away, Gilleran said. Not satisfied, UNIDO co-workers contacted the Austrian Foreign Ministry, which directed police to begin an investigation, said Gilleran, who arrived in Vienna on Nov. 2 to begin searching for her son…"
It's frustrating enough to read about Kathy Gilleran's story. I can't imagine what it would be like to live it.