Bailout REJECTED, stocks plunge!

Project Runway saved? NBC wins first round in 'fierce' court battle.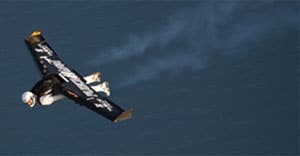 Man jetpacks across English Channel.

October surprise: a Levi Johnston-Bristol Palin wedding?

Does Sarah Palin believe man and dinosaurs existed at the same time? "After conducting a college band and watching Palin deliver a commencement address to a small group of home-schooled students in June 1997, Wasilla resident Philip Munger said, he asked the young mayor about her religious beliefs. Palin told him that 'dinosaurs and humans walked the Earth at the same time,' Munger said. When he asked her about prehistoric fossils and tracks dating back millions of years, Palin said 'she had seen pictures of human footprints inside the tracks,' recalled Munger, who teaches music at the University of Alaska in Anchorage and has regularly criticized Palin in recent years on his liberal political blog, called Progressive Alaska."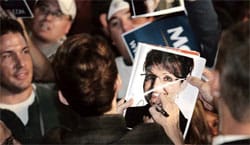 Newsweek's Sam Harris on Palin freaknomenon: "The problem, as far as our political process is concerned, is that half the electorate revels in Palin's lack of intellectual qualifications. When it comes to politics, there is a mad love of mediocrity in this country."

At Sarah Palin's Ground Zero visit, she accepted and carried with her a book about gay celibate priest Mychal Judge, who was the first recorded death on 9/11.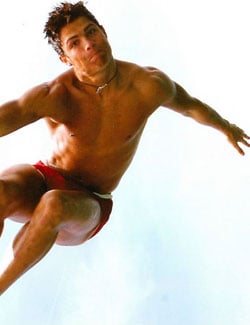 365 days of Cristiano Ronaldo.

The New York Times comes out against Proposition 8. Board of Rabbis of Southern California come out against the measure. AP declares battle the War of the Rings.

Karen Ocamb: Paul Newman taught me how to clean fish.

Brand Beckham smells up New York City.

Canadian talk show host Kevin O'Keefe comes out covering series on gay parents: "I figured it's a series on gay parents, and it's for National Coming Out Day. I can't pretend I don't have a vested interest in this topic, so I felt I had to say 'I am gay'."

NYT on the current state of being gay in Hollywood: "…for most gay actors, Hollywood is not a warm and fuzzy episode of 'Will & Grace.' Today, it is certainly more acceptable to be openly gay. But these actors must still answer wrenching questions: Just how candid do you want to be? Would you be happy appearing only in comedies, or being pigeonholed as a character actor? And what does the line 'You're just not right for the role' really mean? Jasika Nicole, 28, an F.B.I. agent on 'Fringe,' a new Fox drama, said that as bigger parts became available, her manager, John Essay, sat her down and asked how public she wanted to be about being a lesbian. Some roles could be lost, he told her, as would some fans."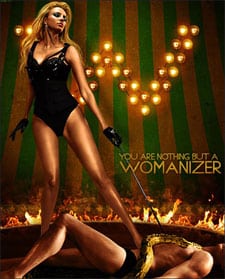 New claim: Britney sex tape for sale.

The worst gay person ever performs a session with BBC2.

Utah gay rights activist Laura Milliken Gray moving out.

GOP candidate with no chance to win quits party in order to dedicate his campaign efforts to passing Proposition 8. Jeff Taylor: "Proposition 8 has always been my main core issue."

Apple to make iTunes and iPod accessible to the blind.

Barbra Streisand: Is this a democracy or a monarchy???

New Hampshire lawmakers to face gay bills upon return to session in January: "Portsmouth Democrat Jim Splaine, who sponsored the state's winning civil unions law, is now backing a bill to legalize gay marriage. He says winning enough votes will be tough but he thinks the conversation needs to start. Meanwhile, Deputy Republican Leader David Hess is sponsoring a proposed repeal of part of the civil unions law. He wants to strike out the language that recognizes another state's same sex marriage as a civil union in New Hampshire."

Former Real World cast member Dan Renzi interviews former Project Runway contestand Jack Mackenroth.