Patrick Sammon, the President of the Log Cabin Republicans, appeared on CNN to defend the group's endorsement yesterday of John McCain for President.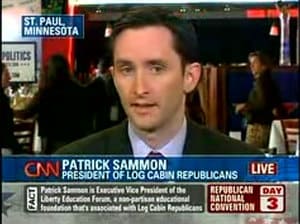 By the way, the McCain campaign also yesterday accepted that endorsement. Said McCain National Political Director Mike DuHaime: "On behalf of Senator McCain and the campaign, thank you for this endorsement. Sen. McCain is running an inclusive campaign and he'll have an inclusive administration [as president]."
As I noted yesterday, McCain doesn't even know what the acronym LGBT stands for. He also doesn't believe gays are fit to adopt children, supports a ban on gays in the military, is worried if his clothing looks too gay, isn't sure if condoms stop the spread of HIV, thinks same-sex marriage ceremonies are okay as long as they're just pretend, and has promised right-wing religious groups that he'll start speaking out more vocally against LGBT causes.
Watch Sammon's appearance, AFTER THE JUMP…
Previously
Log Cabin Republicans Endorse 'Maverick' John McCain for President [tr]