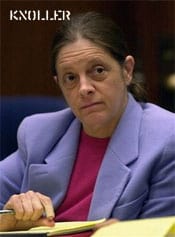 Marjorie Knoller got 15 years to life for second-degree murder in the chilling San Francisco dog mauling incident that took place in Knoller's hallway in January 2001.
It's the first time in California history a murder conviction has been handed down for dog mauling. Knoller has already served three years related the case after a murder conviction was reduced to involuntary manslaughter in 2002 but the case was reinstated last year after it was found that the judge used the wrong legal standard in overturning the verdict.
The details, as many of you may remember, are horrific. Whipple was mauled to death by Knoller's two 140-pound Presa Canario dogs while returning to her apartment. The dogs were owned by inmates in Pelican State Bay Prison and were in Knoller's custody: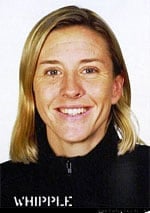 "Knoller did not call for help, retrieve a weapon or dial 911 while the animal was mauling Diane Whipple for at least 10 minutes, the judge said. A second Presa Canario that Knoller and her husband and law partner, Robert Noel, kept in their apartment may have joined the attack. Whipple, 33, the women's lacrosse coach at St. Mary's College in Moraga, bled to death from at least 77 wounds."
Knoller has never expressed remorse.
Whipple's partner, Sharon Smith, made a 25–minute statement at the trial, according to the SF Chronicle, "looked at Knoller and declared that more than seven years after 'the worst day of my life and the last day of Diane's life, finally there is some justice.'"
Knoller's attorney plans an appeal. After being creditied with the three years served on the prior conviction, Knoller would be eligible for parole in a decade.
Watch a CBS News clip on the verdict, AFTER THE JUMP…
15 years to life in S.F. dog maul death [sf chronicle]