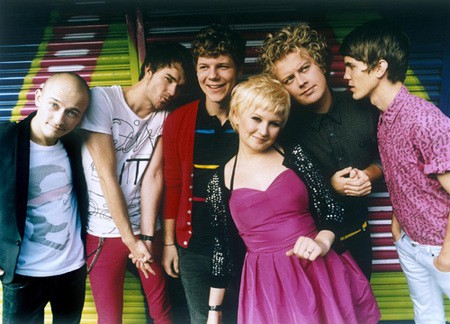 Robbie Daw presents a weekly pop music update here on Towleroad! Robbie runs his own site called Chart Rigger.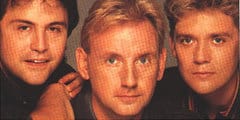 Between 1984 and 1991, the British production team of Mike Stock, Matt Aitken and Pete Waterman (pictured right)—better known as simply Stock/Aitken/Waterman, or SAW—cranked out over a hundred hits in Great Britain and throughout Europe, a dozen of which crossed over here in the States. (Think of them as the Max Martins or Timbalands of their day.)
SAW launched Kylie Minogue and Rick Astley's pop careers, gave Banarama and Dead or Alive their biggest hits and even somehow made Samantha Fox listenable. And when one of their jams came on the radio or over the soundsystem, the handclaps, bassline and synth chords were instantly recognizeable.
Recently, Danish group Alphabeat employed one of SAW's chief engineers and remixers from back in the day, Pete Hammond, to retool their single "Boyfriend" for its U.K. release. Warning: listening will cause those who were of a certain age in the '80s—or who have a penchant for cheesy pop—to go into a bit of a nostalgic shock.
Below:
1. Alphabeat's "Boyfriend" (Pete Hammond Mix): Keep in mind this is from 2008, not 1988.
2. Bananarama's "I Can't Help It" (1988, produced by Stock/Aitken/Waterman): Perhaps the inspiration for the "Boyfriend" mix.
3. Sinitta's "Toy Boy" (1987, produced by Stock/Aitken/Waterman): Wait for the reveal of the actual "toy boy" at the end, whom you'll recognize from Madonna's "Open Your Heart" video.
4. Kylie Minogue's "Better The Devil You Know" (1990, produced by Stock/Aitken/Waterman): Despite a more than passing resemblance to D-Mob featuring Cathy Dennis' "C'mon And Get My Love," this is widely considered to be SAW's masterpiece.
Those curious to check out more SAW will be hard-pressed to track down the bulk of their output (iTunes has a very limited selection of the Brit trio's tracks). The best bet is the import Stock Aitken Waterman Gold, which collects over 48 of the trio's productions and remixes onto three discs.
For those in the U.S., Alphabeat's music can be heard and downloaded from 7 Digital, though the Pete Hammond Mix of "Boyfriend" is currently only available on U.K. iTunes.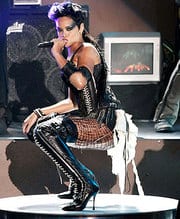 Injuries and a court case result from an Oasis gig in Toronto.

Am I in the minority for actually liking Rihanna's VMAs performance? People are citing her singing as a downer, but at least she sang live. At any rate, Entertainment Weekly comes in defense of her outfit.

Similarly, apparently a panel of experts are needed to assess Britney's apperance.

Boy George throws his hat into the political ring with the pro-Obama single "Yes We Can," which also boasts a cartoon David Bowie and Amy Winehouse in the video.

Can a naked Beth Ditto of The Gossip help NME win a Best Magazine Cover Ever award?

The New Kids are back on The Block.

Fall Out Boy's next album to be released on Election Day.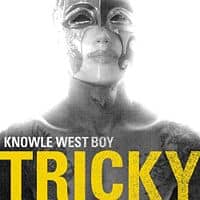 TODAY'S NEW RELEASES:
Natalie Cole's Still Unforgettable, featuring cover versions and standards.
Gym Class Heroes' The Quilt, with guests Estelle, Daryl Hall and Busta Rhymes.
Kardinal Offishall's Not 4 Sale, which contains his hit "Dangerous."
Jessica Simpson's foray into country music, Do You Know.
LL Cool J's Exit 13, which also features guests 50 Cent, Method Man and KRS-One.
Knowle West Boy, the eighth album from U.K. rapper Tricky.
Metallica's Death Magnetic, produced by Rick Rubin. It's the band's first studio album in five years.