Sarah Palin repeats "Bridge to Nowhere" lie for 10th time…

New Obama ad questions McCain's honor.

Fifth annual gay and lesbian 'marriage march' crosses Brooklyn Bridge.

Ultra-orthodox vigilantes are Jerusalem's brutal bullies: " Some residents say the self-styled "modesty squads" are spreading terror among those seen as straying from the strict moral code demanded of the ultra-Orthodox in the more conservative neighbourhoods of the Holy City. There life revolves largely around the study of holy texts and a strict dress code that has men sporting black coats and wide-brimmed hats and women covering their heads, arms and legs."

Britney Spears' new album will be called Circus and is set for release on December 2.

Prince William wants to be a full-time military man.
<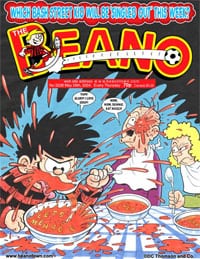 Dennis the Menace comic toned down in late 80's to avoid accusations of gay-bashing: "Euan Kerr, who edited the children's comic between 1984 and 2006, admitted that he took some of the menace out of Dennis in the late 1980s. 'I definitely felt a sense of responsibility in making sure the characters did nothing that was easily imitable,' he told The Times. 'The evidence is that kids understand a comic is a comic and that it isn't anything like real life. But the relationship between Dennis and Walter was always one that worried me.' Executives at D. C. Thomson & Co, publishers of the Beano, decided that the victimisation of Walter could be interpreted as offensive."

San Mateo County to formally oppose Proposition 8: "The Board of Supervisors is set to vote on a resolution opposing Proposition 8, as the ban on gay marriage is known on the ballot, at its Tuesday meeting. Barring any unexpected positions, the decision will bolster positions taken by the board in previous years. While none of the resolutions carry any legal weight, the stances send a clear message to the county of where its elected leaders stand in the contentious election battle."

Jennifer Hudson to marry I Love New York contestant "Punk".

Cristiano Ronaldo wins gold shoe, reveals golden bod.

Robert Greenwald: Release John McCain's health records.

Malaysian police raid massage parlor catering to gay men: "An anti-vice police team led by Chief Insp Mohd Rozi Aziz raided the well-known centre at about 10pm on Saturday and found the men, in their 20s and 30s, in various rooms getting massages. Six of the men were released, while the remainder — the operator and masseuses — were arrested. The centre had been raided at least three times over the past year. OCPD Asst Comm Azam Abd Hamid said the operation codenamed Ops Rose was aimed at curbing immoral activities and 'cleaning' up places such as these."

Village People get their star on the Hollywood Walk of Fame in front of the Scientology test center.