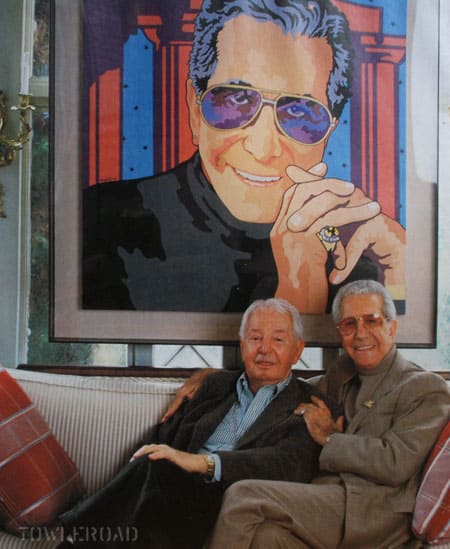 You may have heard that Mr. Blackwell, whose real name was Richard Selzer, famous for his annual "worst dressed list," died Sunday afternoon at Cedars-Sinai hospital in Los Angeles.
I had the opportunity to interview Blackwell and his longtime partner Robert Spencer when I was editing Genre magazine back in 2003. The interview is mainly about the couple's relationship as well as Blackwell's rise in the fashion world and the famous "list."
Of the list, Blackwell told me: "The worst of anything was never done before me. I mean I love everything it did for me, but unfortunately it overtook my real life and it became a double-edged sword. It just was not the whole image I wanted to leave with the world, and today if you ask, Who's Blackwell? He's a bitch."
Blackwell said he felt "terrible" about his public image: "Why I feel terrible is that that's all they think of me. It wouldn't be bad if that was one of the things. Fine. I think the list today is needed more than ever before. There has to be someone who has an opinion of what's going on. I get hundreds of letters saying thank you for remembering that there is such a thing as taste. Hundreds."
When I went to Blackwell's home in L.A.'s Hancock park for the interview it was like entering a place that hadn't been updated since the 60's. I expected to meet what Blackwell describes above – a bitch. But what I discovered was a warm, generous couple who had plenty to say about gay L.A. in the 50's and 60's, and relationships.
Photo above, from original article, by John Skalicky. Interview reprinted below. S indicates Spencer, B indicates Blackwell.
How long have you been together?
S: Since October 1949 – 53 years.
Where did you meet?
B: In a Cabaret.
S: Do you know where Spago's is on the Sunset Strip? That used to be a supper club called Club Gala. And it was owned by a German countess who came here during the war. She had a friend, a singer, an English guy, who sang like Noel Coward. And they had baby grand pianos that played with the singer. It was the IN spot for those days. The strip was wonderful. There were a lot of clubs along the strip. It's always been like today.
What was your reason for meeting one another?
B: Having dinner.
S: No what happened is Ken called me and said I have a friend in from New York and we're going there to have dinner tonight. And I said, No I'm tired it's Saturday night. And he said, Oh c'mon go. So I went, and his friend was Blackwell, in from NY.
And at that time you were doing what?
B: I was an actor.
And that was before you were doing fashion?
B: Way before. Fashion came in '56.
What made you decide to do that?
B: Just sort of an evolution of my life. There was no great plan.
S: No, he was under contract to Howard Hughes. And he had dropped the contract. So that was finished. So we met, and then he started managing girl singers, and the girls didn't have good gowns to wear, so he started fitting them with fabric and putting them out on stage. The gowns got better reviews than the singers most of the time. So then he got an idea of doing dresses.
B: It wasn't preconceived. It just sort of evolved.
Continued, AFTER THE JUMP…
You were designing hats too, right?
B: Before. That was just to survive. My aunt had been a milliner. In New York.
So you had some experience putting things together like that, creating fashion?
B: Yeah, but when you do those things you don't plan it. You don't think of it. You're not programmed in life, you just simply do it. But it worked. I was very successful, mostly because my first intention was to make women pretty. That was the biggest dream I had. To be outrageous wasn't important to me. What was important was that women looked better for what I had done, and felt better. And it worked, unlike today where the ego of the designer predominates the woman, and the woman is subservient to the look, the trend. Today's fashions are costuming, a very creative art.
But wasn't that actually how you started designing, as a costume almost, for a cabaret?
B: Yeah, but they actually wound up being beautiful dresses. And any surplus I pinned over, put a flower on it, or a rhinestone broach. Today, fashion is more art than it is fashion to be worn, and under that title it's been brilliant, under the title of "art". Cause if they ever painted those things they would be in the Met. Art has to be very creative, very distinctive. Today, editorially, it's completely off the wall.
So when you were designing dresses, what were you known for?
B: Very sexy, provocative, body, skimpy dresses, tight sheathes, very feminine. And mostly very pretty, they had to be pretty, they had to be pretty on the woman. She had to feel pretty. If she didn't feel pretty, I did not succeed in what I intended. Today I imagine a lot of them feel pretty in what they're wearing, it doesn't mean I have to agree. I simply don't. I see a lot that's beautiful, unfortunately it's the more outrageous that becomes the talking point of the editorials but you have to blame the fashion magazines for that. I remember they used to come and pick the only dresses we didn't produce to do an editorial on.
So what were you doing at the time you met?
S: He had been on Broadway with Mae West before we met. That would be the '40s. I was a hairdresser at Saks Fifth Avenue in Beverly Hills. I'm from Indianapolis. I came out here in 44.
B: I was with The Dead End Kids. Way before that I danced with Gypsy Rose Lee at the World's Fair, under Mike Todd. I was also in Elizabeth Taylor's second movie, National Velvet.
What did you do in that movie?
B: Nothing you can't forget. Nothing you want to remember. As a young guy I looked mafia and sleazy and dark.
When you first met, it must have been much different to be a couple than it is now.
B: Much more private. However, I never kept it a secret. I never came out and said anything, but I never hid it. We were always together. We would never be invited without the other one. People knew and understood, it was just never discussed, which was fine. There really was nothing for them to discuss. Frankly, it was none of their business. They either accepted us as people, or not.
S: The 40s and 50s were rough times for gay people.
In L.A. was it a little bit easier than other places?
S: Perhaps a little but not much. They used to raid the gay bars all the time.
B: It was not a happy time. But if you had the dignity to live with dignity, then really nobody bothered you. In my profession it was very accepted – actor, dress designer, entertainer. Being gay was not a big problem. And we never thought of it as being different. It was simply what I did, what I chose to do, and who I chose to care for. Believe me, for a relationship like that to last is miraculous, under the conditions.
What's the hardest thing about maintaining a relationship for as long as you have?
B: [Hard] for him, not for me. I never submitted to anything. [Spencer] was the one that put up with everything, tolerated everything. He was the one that had to accept it. I was always the more aggressive, outgoing one of the two of us. My moods, my attitudes, none of which have ever changed. I had an opinion, that was it.
Do people ever change?
B: I don't think they do. So this had to be where one of us had to submit, totally, all the time. Of course you don't realize that at the time. You only realize much later in life that you took too much, and gave too little.
You mean one person has to be more sacrificial?
S: Yeah that's true.
B: Unfortunately. But you know, you don't realize it then. You don't say this, or this is this, you simply go about it. And he put up with a hell of a lot.
It's very rare these days to see a relationship that lasts… a year.
B: A night! How bout two nights!
That's true. It's so admirable.
B: I wish I had realized how selfish it was. I wish I had realized.
Do you enjoy doing specific things together?
B: Everything was always oriented towards business or career, and very rarely did we do things that did not relate to it.
S: We were in the dress business 30 years.
B: Together.
S; He designed, and I did the business.
B: Which was tough.
And that took you traveling a lot of different places.
S: Oh yeah.
B: We were always together.
S: We've been all over the world on cruises. He speaks to, used to do shows at the Sybil Brown Institute for women, the jail for women. He's gone there many times and done shows for them.
B: It was important that I found a relationship with these people.
Why?
B: I guess because I didn't want to lose my original identity, where I came from. Through meeting these people, and being with them, I was able to feel comfortable. The kids and the inmates. It was what I felt I had to do. I talked to them. Usually I let them talk first.
S: What we would do is go and have dinner in the jail. The inmates would serve us dinner. Then we'd take models and music. Everybody volunteered, and he would do a fashion show.
B: Show fashions and talk to the inmates. The industry frowned on me for doing that. What am I doing? That's not the fashion industry. That wasn't the fashion industry for me, that was giving to them.
S: And the women in the jail, they loved it.
B: We gave away a lot of dresses that were held, till they got out. I think a lot of women felt a lot better for having better. I've heard from many, years later.
S: We used to do it for Sheriff block. He used to pick us up in a sheriff's car and take us to the jail.
How did you work with St. Mary's evolve?
S: They have an auction every year, and we've been doing that for years. We thought we should do something for them, so…
B: I felt the sisters were quite incredible. They were always there for me.
S: When we closed the business we gave the U of Colorado all his patterns. They must have 75 dresses that he's done for celebrities. Over 100 of those.
B: Looking back is not a happy thing.
What is it most today that gives you the most satisfaction?
B: Having my own opinion. Not accepting what I believe is not worth accepting. The most satisfaction I have is trying to make up for the years I was too selfish. But you can't do it. You can't make up for those years. I should have thought about it years ago.
You're best known for your list.
B: Unfortunately… or fortunately. Well, it's the most copied list in the world. Nobody copied any list as much as mine. The worst of anything was never done before me. I mean I love everything it did for me, but unfortunately it overtook my real life and it became a double-edged sword. It just was not the whole image I wanted to leave with the world, and today if you ask, Who's Blackwell? He's a bitch.
How does that make you feel?
B: Terrible, terrible.
Why do you continue it?
B: It's my list. Why I feel terrible is that that's all they think of me. It wouldn't be bad if that was one of the things. Fine. I think the list today is needed more than ever before. There has to be someone who has an opinion of what's going on. I get hundreds of letters saying thank you for remembering that there is such a thing as taste. Hundreds.
How do you define good taste?
Well you can't really. It's individual. What's good taste for one might not be the best for someone else. That's the hardest question I've had to answer. How do you define it? I can tell you people that have good taste, but how do you define knowing that somebody does not have good taste? I think it is NOT good taste to be totally nude under a chiffon dress. That is not good taste. I think it is NOT good taste to show the bust point out in public if you're not on stage. I don't think that's good taste. I don't think it's good taste to look like you came out of a garbage pail. I don't think it's good taste to pay a fortune for a pair of jeans that you might have thrown away ten years ago – and the more rips, the more money. I don't think that's good taste. I don't think that good taste is going to business in a dirty T-shirt and a pair of hip jeans with the midriff showing. I don't think that's good taste. I don't think that good taste is profanity. I don't think good taste is violence. I know I'm considered a bit old hat but I accept what's new, I don't accept what's ugly. Now ugly is only in my eyes – this may not be ugly in your eyes.
Maybe that's the definition of good taste?
B: But anyone who would think ripped jeans showing private parts and paying hundreds of dollars for these shredded monstrosities — anyone who thinks that's good taste, I have no faith in their taste. Anyone who thinks a dirty t-shirt or a five sizes too big pair of pants or shorts – if they think that's good taste, fine. I'm not telling them not to do it. I'm just telling them what I think of it.
Is there an aspect of putting out your list that gives you a certain amount of enjoyment?
B: you mean, pleasure out of knocking it?
Is there something that you gain from it that satisfies you?
B: I think it's become a little old hat, I think now. But opinion is not old hat, just the phrase. I think today you could call it what's hot and what's not. I just think the original title, the best and worst has become a bit antiquated. You could do a lot of things. This is not a vendetta. I am not out to get even with anyone, with anyone. And I don't deny them the privilege or the right to create anything they choose to create. I just question the people who find it worthy of putting out money for – a lot of it. Then we have to define whether it's costume, or wardrobe. Cause costume I don't care how far you go. Do whatever you want to do. That's costume. As wearable fashion, or wardrobe. Britney Spears is a costume, but this has become her look. And J Lo, what she's putting out now, is not in my opinion a good influence on teenagers in our country. Not in my opinion. It's just trashy, but that's fine. There are people who want it, good luck. But I will continue to say what I think of it. I'm just determined to say my opinion, and I accept it completely if it's under the guise of creative art. I don't care what they do. As it's brilliant. The things are unbelievable. If this were art, it would make Erte's look like a has-been.
S: When Blackwell's list first came out, a lot of papers were critical. It was too off the wall. Because nobody had a worst anything. This was the very first, in America Weekly. 1960. It was so outrageous.
B: The fashion industry were outraged.
Who was your favorite actress?
B: Every one for a different reason. I loved Jayne Mansfield. She was so different from her image. The image was a ditzy woman. That wasn't Jayne. Jayne was wonderful. Really a deep human being, very devoted to family, very devoted to life, people. People misconceived her completely as a ditzy dumb blonde. I think one of the toughest ones was Jane Russell. I did her for the Trio. No maybe Lily Pons was the toughest I ever worked with. That was five feet of pure hell.
What kind of advice would you give somebody about maintaining a long relationship?
S: You have to have a lot of things in common. Enjoy the same things.
B: You have to give a lot. If you don't give, today especially, it won't last. I think both have to give. When we met, one of us was usually the giver, one was the taker. I regret I took too much. Much too much. Have some self love. Care about yourself. Care about what you're sending out to the world. Being gay is fine. Being a circus is not. Just cool it.
[A relationship is] a whole way of life, and at the end of that life, you have a whole lot of regrets, that you wish you had done differently, but you didn't. There's no way to get it back. So plan along the way. More giving, more loving, more understanding. Don't wait. And don't just pass it like it didn't happen. It did happen. Cause when you realize it, it's too late to go back. Much too late. You're who you are as a person. That's all that counts. And let's not label everything anymore. Let's just go through life giving with respect and taking with respect. I think that's the best thing. And if you last fifty years, then — great.