Former Mr. Gay UK Anthony Morley was sentenced to a minimum of 30 years in prison yesterday for killing his lover Damien Oldfield and eating part of his flesh after cooking it.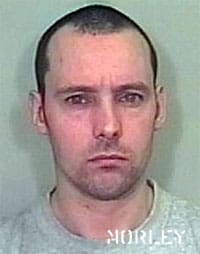 But apparently he won't be idle behind bars:
"Last night Morley's best pal Michael Graham, 25, revealed the cannibal had agreed to help him run his new restaurant from behind bars. Mr Graham will receive weekly food consultations from the killer – a former chef at a Leeds hotel – when he visits him in the city's Armley Prison. He said Morley will design the menu and give him cooking tips for his Citrus restaurant in Leeds. Mr Graham said: 'He's a brilliant chef, much better than me, so it makes sense to learn from him. Tony can do a lot for the place even though he's on the inside. I can't understand why he did what he did but it won't put me off. He's made me countless meals and they've all been wonderful. Customers can be assured all our meat will be fresh from the best butcher in town."
Bon appetit.