T.R. Knight donates $50,000 to No on 8.

Manchester, UK teen hangs himself over gay hate anonymous phone bullying.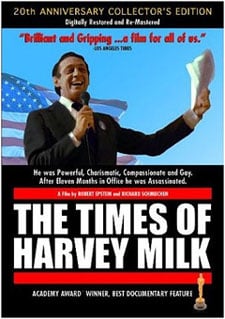 Free screening of The Times of Harvey Milk documentary tonight in L.A. See it, it's amazing.

House Minority Leader John Boehner mocks the way Barney Frank talks: "You know where he's from. He's from Massachusetts, although he can't say the word 'Massachusetts.'"

Brandon and Brenda Walsh reuniting for 90210.

Denver Post remembers Matthew Shepard: "The crime galvanized gay-rights activists, who were determined change should come of Shepard's death. In some ways, the death of the affable young man has made a difference. Laramie, where Shepard attended college, passed a bias-crime ordinance in response to his death. His killing also has led to greater awareness about hate crimes and calls for tougher laws nationwide. But much work remains…"

NYT: Colorado, Indiana, Ohio, Michigan, Nevada and North Carolina. "Tens of thousands of eligible voters in at least six swing states have been removed from the rolls or have been blocked from registering in ways that appear to violate federal law…"

Harvey Milk LGBT Democratic Club endorses Mark Leno, refuses to drop support for Nancy Pelosi in favor of Cindy Sheehan. "The decision at the club's political action committee meeting Tuesday, October 7 not to support Sheehan prompted complaints about who the club allows to vote on its endorsements and was the third time during Pelosi's 20 years in Congress that attempts to strip her of the Milk Club's support had failed."

Gerard Butler under investigation for beating the crap out of a paparazzo.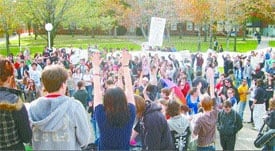 SUNY Fredonia students drown out anti-gay demonstrators: "The Deferios didn't quite know what they were getting into when they visited the SUNY Fredonia campus earlier this week. Jim Deferio of Syracuse, along with his daughter, Michelle Deferio, 26, stood in the grass near the Reed Library steps, holding signs, beginning shortly before noon on Tuesday. Jim wore aviator sunglasses and clutched a megaphone, which he used to address the rapidly expanding group, and held a large poster that read, "Warning: Do you not know that the unrighteous shall not inherit the Kingdom of God?…Many exchanges occurred between Jim, via megaphone, and the crowd throughout the afternoon. Jim would begin to shout, "There's no biological basis -" and the crowd would reply, 'Shut up, Jim.'"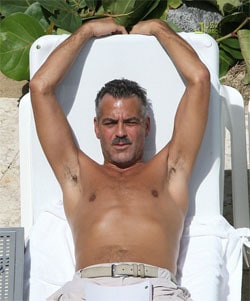 More Clooney P.I.

Now Jude Law goes the 'stache route.

Palm Beach Atlantic University to allow Soulforce Bus riders on campus, but Soulforce calls invitation too restrictive: "Unfortunately, the format is not conducive to reaching out to the Palm Beach Atlantic community in the spirit of open dialogue. Additionally, the lesbian, gay, bisexual and transgender students who need to hear our message of love and affirmation would not be reached in this format."

Proud Nation: UK's first gay museum planned for London.

I always fall for a good baby anteater story.

New pain relief method is eight times stronger than morphine: "The revolutionary technique involves an injection that can combat serious discomfort for more than three days – 14 times as long as morphine. The substance, which can be injected, appears to have few side effects and works by neutralising the chemical in the body that causes the brain to feel pain."

California leads the country in gay rights even if Proposition 8 is approved (which of course cannot happen!)