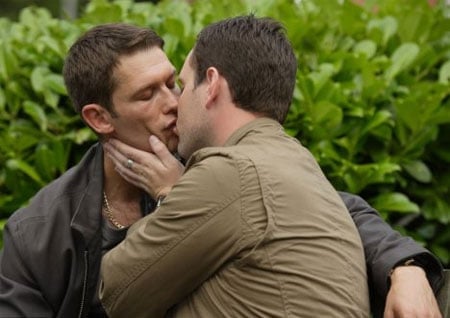 A romantic kiss between Christian Clarke (John Partridge ) and Lee Thompson (Carl Ferguson) on the British soap Eastenders has sent conservative viewers into a frenzy.
The Daily Mail reports: "In a statement the BBC defended itself by saying it was down to parents to decide whether the content of the show was suitable for children to watch. But some viewers were left deeply unimpressed. One viewer wrote on the BBC's Points Of View internet messageboard: 'I am appalled by the display of homosexual kissing before the watershed shown on EastEnders. This is disgraceful whilst young children are watching and sets the wrong example.' Another, Pat, wrote: 'I had to explain to my seven-year-old son what was happening. He now thinks he is gay because he kisses his dad.'"
Well, apparently you didn't explain it well enough, idiot.
Said the BBC: "We approach our portrayal of homosexual relationships in the same way as we do heterosexual relationships. We believe that the general tone and content of EastEnders is now widely recognised. Parents can make an informed decision as to whether they want their children to watch."
Watch the scandalous kiss that's rocking Britain, AFTER THE JUMP…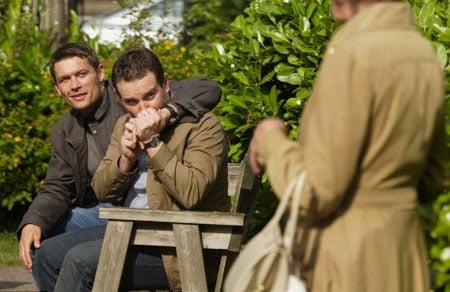 Pretty hot if you ask me. The BBC is probably getting complaints because the men aren't typically stereotyped nelly queens. Seems the bigots are always more threatened when the men are more masculine, as in the Heinz commercial earlier this year.