A jury deliberated for two hours and 20 minutes before delivering a guilty verdict against Anthony Morley, a former Mr. Gay UK who killed Damian Oldfield, slashing his throat and stabbing him as he slept before cutting, cooking, and eating part of Oldfield's thigh: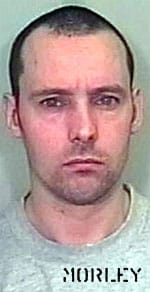 The Times reports: "On the day of the murder the pair texted each other and Oldfield — who was the first winner of the Mr Gay UK title in 1993, even though he had a girlfriend — said that he was not happy with his sexuality. In the texts to Mr Oldfield, from Bramley, Leeds, the defendant said he would like them to try again but that he wanted to take things slowly. The two men met in Leeds before going back to Morley's house, where he cooked a meal for Mr Oldfield. The pair went to bed after drinking alcohol and, Morley claimed, his victim told him nothing was going to happen between them.But he said he woke up to find the other man was performing oral sex on him. The court has heard that Morley was scarred for life after he was groomed and raped by an older man when he was young and that the incident left him confused about his sexuality. He told the jury that he had had a flashback to that incident. He said that he felt betrayed by Mr Oldfield's actions and feared he might be raped. Morley said he did not know why he went on to kill and claims to have no memory of the following attack, other than feeling pain when he cut his own finger with his knife. He said he also could not remember carving and cooking sections of Mr Oldfield's body but said he might have done it because he thought he was preparing a piece of meat at work. When police searched the house they found a chopping board with six pieces of human flesh, cooked so they were raw in the middle and browned on the edges. A bundle of fresh herbs, a knife used to chop them, some olive oil and a dish of seeds were found on the work surface near the cooker and a frying pan was on the hob with the remnants of fried herbs and oil in it."
Morley was arrested after the murder, covered in blood, at a take-out shop near his home. Sentencing is on Monday.