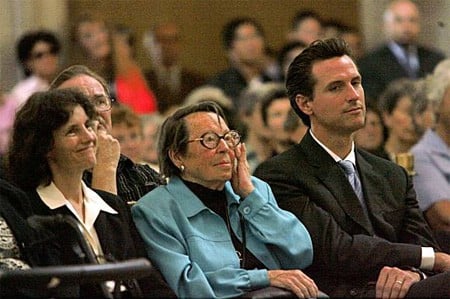 A public celebration of the life of Del Martin open to the public packed San Francisco's City Hall rotunda yesterday afternoon as speakers and performers remembered the gay rights pioneer who in 1955 helped found the Daughters of Bilitis, which would become one of the nation's first gay rights organizations. Her longtime partner, Phyllis Lyon (above) sat next to San Francisco Mayor Gavin Newsom during the ceremony.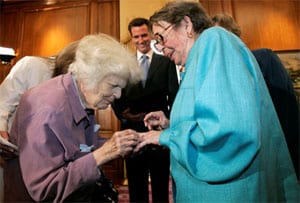 The SF Chronicle reports: "Martin, 87, died in San Francisco on Aug. 27 – less than three months after she and her partner of 55 years, Phyllis Lyon, were among the first same-sex couples to legally wed in California, putting a public face on a social and political battle being waged in statehouses, courtrooms, voting booths and at the pulpit. There was only one overt mention of the state ballot measure that asks voters to decide whether to overrule the state Supreme Court and write a same-sex marriage ban into the California Constitution. 'Out of respect for (Martin's) work and for her legacy, each of us needs to double our commitment to ensure that on Nov. 4, Phyl and Del's marriage will be upheld by the voters,' said Assemblyman Mark Leno, D-San Francisco."
Leno was the author of the measure that would have created an annual special day of recognition for gay rights pioneer Harvey Milk in California. Governor Arnold Schwarzenegger vetoed the bill on Tuesday.
(image Lea Suzuki / The Chronicle)
PReviously
Lesbian Couple of 50 Years to be First Married in San Francisco — Again [tr]
BREAKING: San Francisco Mayor Gavin Newsom Comments on Death of Gay Marriage Pioneer Del Martin [tr]