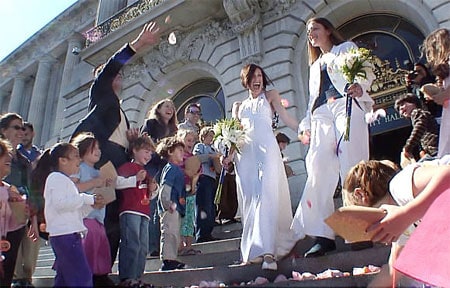 The Protect Marriage campaign (which is behind the misleading "Yes on 8" ads that claim same-sex marriage would force schools and religion to adopt some sort of 'homosexual agenda') is infuriated that a group of first-graders went on a field trip to San Francisco City Hall to watch their teacher get legally married to her partner.
Video link HERE.
The SF Chronicle reports: "The 18 Creative Arts Charter School students took a Muni bus and walked a block at noon to toss rose petals and blow bubbles on their just-married teacher Erin Carder and her wife Kerri McCoy, giggling and squealing as they mobbed their teacher with hugs. Mayor Gavin Newsom, a friend of a friend, officiated. A parent came up with the idea for the field trip – a surprise for the teacher on her wedding day. 'She's such a dedicated teacher,' said the school's interim director Liz Jaroslow."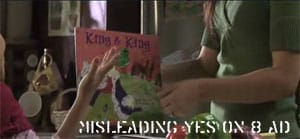 The trip was justified by the school as an observation of a moment of historic and civil rights significance — a same-sex marriage.
Prop 8 supporters are, of course, labeling it "indoctrination." Said Yes on 8 spokesperson Chip White: "It's just utterly unreasonable that a public school field trip would be to a same-sex wedding. This is overt indoctrination of children who are too young to have an understanding of its purpose."
In related news, lawyers are warning stations across California that a "Yes on 8" ad released by Protect Marriage last week is false and misleading and stations are being urged not to air it.
The ad in question, which I posted last week, you can check out again AFTER THE JUMP…
Class surprises lesbian teacher on wedding day [sf chronicle]
Donate to the campaign against Proposition 8 — HERE.