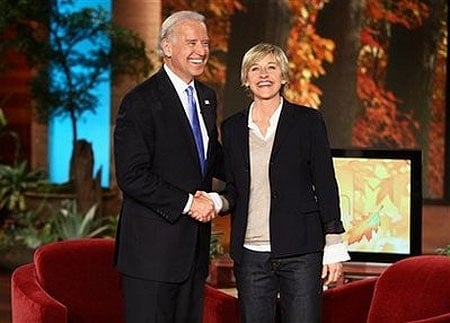 Joe Biden taped an episode with Ellen yesterday to air on Monday during which he reportedly expresses opposition to Proposition 8, the measure that would ban same-sex marriage in California. He repeated his opposition at a campaign fundraiser later in West Hollywood:
"At the event, Biden told IN Los Angeles magazine journalist Karen Ocamb that he opposes Proposition 8, which would ban same-sex marriage in California. He had just finished taping an episode of 'The Ellen Show' that will air Monday, and expressed his opposition to the measure to host Ellen DeGeneres. At the vice presidential debate with Sarah Palin, Biden said that he opposes same-sex marriage. Obama holds the same position, but also has said he opposes Proposition 8, citing the fact that it would write a restriction into a state constitution. Biden plead with the crowd gathered at the $500-per-person fund-raiser at the Pacific Design Center to talk to their friends and family and 'make the case for us.' … 'There's a great deal at stake, so my plea to you is, we have less than three weeks to go, so this is the time to focus like we never have before.'"
Last night, Biden appeared on The Tonight Show with Jay Leno. Watch a clip of his appearance, AFTER THE JUMP…
Express your opposition to Prop 8 by donating HERE.