Majority in Connecticut support same-sex marriage ruling: "Fifty-three percent of Connecticut residents support Friday's historic ruling by the state Supreme Court that legalizes gay marriage, while 42 percent of residents polled said they do not."

ONE Archives to open first museum dedicated to LGBT history in West Hollywood: "The museum — really a micro-museum at 600 square feet — has set a macro goal for itself: to bring little-known aspects of gay history out of the library closet and into the public sphere. The museum is an offshoot of the ONE National Gay and Lesbian Archives, which is affiliated with USC. The old magazine covers dedicated to gay marriage come from ONE magazine, the first gay publication in the country."

Marcia Brady's tell-all confession: I was addicted to coke and quaaludes, had sex for drugs, dated Michael Jackson, had two abortions, bulimia, and almost lost my virginity to Greg Brady.

Karl Lagerfeld just bought a six-bedroom, 1840 landmark house on an island on Lake Champlain, Vermont.

Bush supporter Dennis Hopper: I pray Obama wins.

MEAT: Gerard Butler opens BBQ in Hollywood.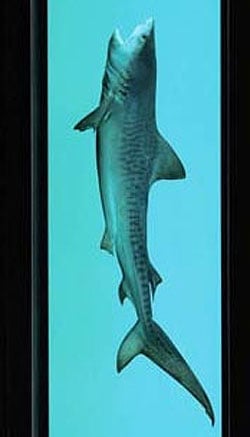 Damien Hirst tops list of powerful people in the art world: "Hirst is also a good example of how contemporary art reflects modern life. Like our shopping centres, our art world is dominated by superbrands: Hirst in Europe, Jeff Koons in America and the Japanese artist Takashi Murakami (whose recent American retrospective included a Louis Vuitton boutique selling Murakami-designed fashionwear)." [LIST]

Shark blood offers hope for cancer.

Kenya's elephants now text message conservationists before raiding villages: "Kenya is the first country to try elephant texting as a way to protect both a growing human population and the wild animals that now have less room to roam. Elephants are ranked as 'near threatened' in the Red List, an index of vulnerable species published by the International Union for Conservation of Nature."

Australia debates the merits of mantyhose.

SF Mayor Gavin Newsom has become the single-best tool for same-sex marriage ban backers: "His pictures have become the rallying cry for Prop. 8. It's unfortunate for him, and it's unfortunate for the anti-Prop. 8 campaign. I don't know that I would change his behavior, because he's representing his constituency, and he's been totally consistent in his position. But he's become everyone's worst nightmare."

L.A.: Stars come out to Skybar to defeat Prop 8. "Chad Allen, Eric McCormack, Dana Delaney, Marissa Jaret Winokur, Thomas Roberts, Katherine Joosten, Loni Anderson, Heather Tom, and Eduardo Xol who were among the celebrities there to raise money for 'No on 8 – Equality California.'"

TOUR: Britney Spears will take her show on the road this spring.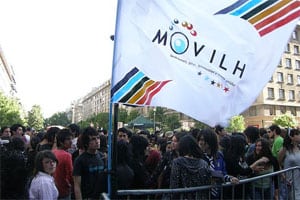 Chilean gay rights group steps up against Catholic bishop and Evangelicals: "MOVILH strongly criticized Bishop Juan Ignacio González Errázuriz, whose San Bernardo Diocese is located just south of Santiago, for writing a public letter urging Chileans not to vote in this month's city elections for candidates who support granting certain rights to gay and lesbian couples…MOVILH also is up in arms about a Saturday conference held by the Isacar Movement, a network of Evangelical professionals. Isacar called the conference to address the so-called Anti-Discrimination Law currently under consideration in Chile's congress."

The least attractive photo of The O.C.'s Benjamin McKenzie you'll likely ever see.

SPOILER: Meet Mad Men's new gay character.

Producing duo acquire rights to French-Canadian comedy Taxi 0-22: "The two will be shopping an American version of the series, which centers on Rogatien Dubois, an outspoken and politically incorrect taxi driver. A modern-day Archie Bunker type, Dubois wrestles with his many prejudices and the fact that his 20-year-old son is gay."