Brandon McInerney, the 14-year-old student who gunned down his gay classmate Lawrence King in February, is switching his legal team. Ventura County Superior Court Judge Kevin McGee allowed the change after it was determined that McInerney had not been coerced into doing so: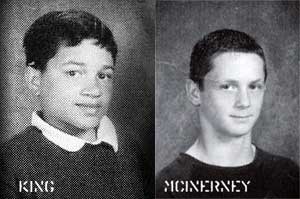 "Ventura County Superior Court Judge Kevin McGee said McInerney can fire his attorneys from the county Public Defender's Office and substitute lawyers from a criminal defense law firm, United Defense Group of Studio City, along with attorney Robyn Bramson of North Hollywood. The Oxnard teen is being prosecuted as an adult in Ventura County Superior Court in connection with the shooting death of classmate Larry King, 15, at E.O. Green School in Oxnard. McInerney is charged with first-degree murder and a hate crime in the Feb. 12 shooting. King, an eighth-grader, dressed in a feminine manner and told friends that he was gay."
Earlier this month it was reported that a "trove" of white supremacist materials had been discovered in McInerney's bedroom.
More on that: "'The discovery of these items in large part prompted the filing of the hate crime allegation in this case,' Fox wrote in a court document. McInerney's previous attorney, William 'Willy' Quest, had called the prosecution's evidence 'vague' and said it was a 'stretch' to portray his teenage client as having white supremacist leanings. Quest said McInerney has friends who are blacks and Latinos and will provide character references from teachers who are Jewish."