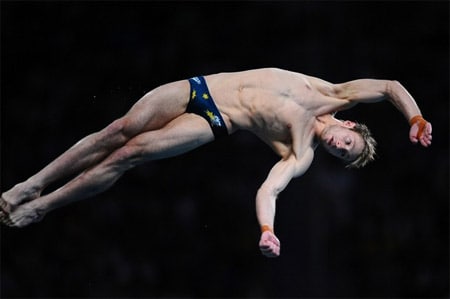 Australian gold medalist Matthew Mitcham held his first press conference since the Beijing Olympics yesterday and said he was saddened by the fact that he was the only openly gay male athlete at the Games:
"I was actually very surprised I was the only 'out' male at the Olympic Games. It's a little bit sad I think, because statistically there should be a lot more but, you know what, it's each to one's own. I'm not going to pressure anybody else to come out of the closet because it's their own choice. But I'm proud to be there, proud to be that one, that lots of other people can look up to."
Mitcham recently signed with Ian Thorpe's manager Dave Flaskas, who says he'll manage his career similarly: "The strategy for Matthew will be worked in the same template as it is for Thorpey, Cadel Evans, Leisel [Jones]. They all have different challenges, they all have different personalities, it's not going to be a quick grab for deals [but] obviously there is a priority because of the financial situation."
There were rumors that Mitcham had signed with Australian swimwear designer Aussiebum, but as of today, those are still just rumors.