The McCain-Palin campaign is pulling out of Michigan to place its resources elsewhere,
Politico reports: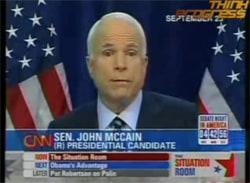 "A McCain aide confirmed the move and chalked it up to the state's Democratic tilt and the resources Obama had put in place there. 'It was always a long shot for us to win,' said the aide. McCain will now turn his attention to bolstering his defenses in Ohio and Florida while putting more resources into Wisconsin, Minnesota, Pennsylvania and the second congressional district of Maine, where there is a sole electoral vote available. Obama's campaign offered a muted response to McCain's decision to abandon Michigan, only promising to keep it in the Democratic column."
Also, the Florida GOP leadership held a secret meeting this afternoon to strategize over what to do about McCain's sag there.
Meanwhile, CNN has been talking this afternoon about McCain's remarks vs. his vote on the bailout bill.
Think Progress reports that after voting for the bill, McCain seemed to suggest that Bush should veto it. Wolf Blitzer and Glenn Beck this afternoon replayed some tape from last week in which McCain vowed to oppose the bailout if it was filled with earmarks, which it was. Beck said he thinks McCain's vote cost him the election.
And the sideshow of this act is Sen. Joe Lieberman, who went on FOX News today and said that he hopes the bill is passed because "it will be good for John McCain."
Watch both clips, AFTER THE JUMP…