Anger management issues apparently run in the family. John McCain's brother Joe placed a call to 911 earlier this week because he was stuck in traffic in Alexandria, Virginia: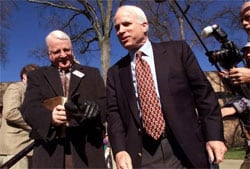 Operator: 911 state your emergency
Caller: It's not an emergency but do you know why on one side at the damn drawbridge of 95traffic is stopped for 15 minutes and yet traffic's coming the other way?
Operator: Sir, are you calling 911 to complain about traffic? (pause)
Caller: "Fuck you." (caller hangs up)
The operator called back and received this message: "Hi this is Joe McCain I can't take this message now because I'm involved in a very (inaudible) important political project… I hope on Nov. 4th we have elected John."
Listen to the call, AFTER THE JUMP…
And P.S.: Get off my lawn!