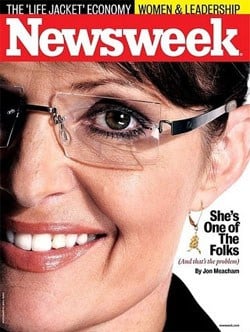 Guess who made more money than any other individual in the McCain-Palin campaign for the first two weeks in October:
"Not Randy Scheunemann, Mr. McCain's chief foreign policy adviser; not Nicolle Wallace, his senior communications staff member. It was Amy Strozzi, who was identified by the Washington Post this week as Gov. Sarah Palin's traveling makeup artist, according to a new filing with the Federal Election Commission on Thursday night. Ms. Strozzi, who was nominated for an Emmy award for her makeup work on the television show 'So You Think You Can Dance?', was paid $22,800 for the first two weeks of October alone, according to the records. The campaign categorized Ms. Strozzi's payment as 'PERSONNEL SVC/EQUIPMENT.' The payment on Oct. 10 made Ms. Strozzi the single highest-paid individual in the campaign for that two-week period."
Of course, Palin doesn't get retouched so perhaps the expenses are legit.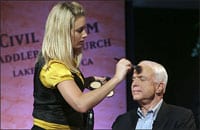 Additionally, the Washington Post reported earlier this week that McCain's make-up person makes bucks too: "Tifanie White, who reportedly has done makeup for the shows "So You Think You Can Dance" and "American Idol," was paid a total of $8,672.55 in September by the McCain-Palin campaign, according to the campaign's latest monthly financial report filed this week with the Federal Election Commission. She was paid $5,583.43 the previous month, records show."
Yesterday, in an interview with the Chicago Tribune, Palin, who has portrayed herself as a "regular hockey mom," commented about recent revelations that the RNC spent $150,000 on her wardrobe. Details about that are still murky.
Said Palin: "That whole thing is just, bad! Oh, if people only knew how frugal we are."
(via daily dish)
Previously
'Regular Hockey Mom' Palin Has $150,000 RNC Fashion Budget [tr]
GOP Media Consultant Apoplectic 'Regular Hockey Mom' Not Retouched [tr]