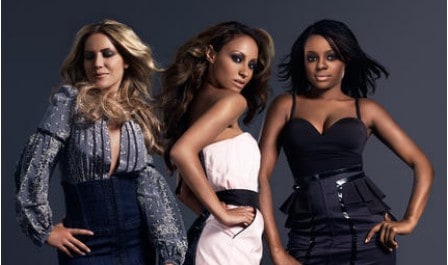 Robbie Daw presents a weekly pop music update here on Towleroad! Robbie runs his own site called Chart Rigger.
Well, it was only a year ago last week when I pondered here on Towleroad whether U.K. pop trio the Sugababes could ever cross over in the States. So far that's a "no," but their new CD, Catfights And Spotlights, arrived in the mail today via Amazon, and all is right in the world.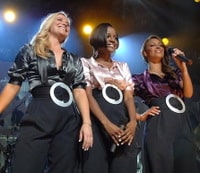 Catfights… is the 'babes' sixth studio album, and was released in England on Monday. It contains the single "Girls" (see video below), which recently peaked at #3 on the U.K. singles chart (held back from the top spot by Pink's "So What"). But that one is only the tip of the iceberg as far as the catchy, pop-hook greatness that lies waiting here.
A large portion of the album was written and produced by Klas Åhlund, who collaborated with Robyn on her most recent set and wrote and produced Britney Spears' "Piece Of Me." Max Martin co-wrote the track "Unbreakable Heart" with Åhlund.
TWO HIGHLIGHTS: The Motown-infused "You On A Good Day" and the slow-burning R&B jam "Side Chick."
Someone at Universal here in the States needs to get on the stick and get these gals over here.
Order Catfights And Spotlights here. Catch the video for "Girls" below.

A few music clips for the week:
1. Four Tops, "Reach Out, I'll Be There": I was crushed by the passing of Levi Stubbs, 72, on Friday. Not only was the Four Tops' frontman one of the most memorable voices of Motown, he was able to convey a powerful sadness like no other in the rock era. Stubbs was also the voice of Audrey II in the film Little Shop Of Horrors. Just an all around classy performer.
2. Sugababes, "Girls": The lead single off the Brit girl group's new album.
3. Leon Jackson, "Don't Call This Love": Following in Leona Lewis' footsteps, Jackson won Simon Cowell's U.K. talent program The X Factor last year after being mentored by Dannii Minogue.
4. Guns N' Roses, "Chinese Democracy": Well, there might be a reason heavy metal died at the hands of Nirvana in 1991…
New singles from Beyoncé ("If I Were A Boy"), MGMT ("Kids [Soulwax Remix]") and Björk featuring Thom Yorke ("Nattura").
The reunited Labelle's (Patti LaBelle, Nona Hendrix, Sarah Dash) Back To Now, their first album since splitting 32 years ago. Back To Now features production from Lenny Kravitz, Philly soul legends Kenneth Gamble and Leon Huff, and Wyclef Jean.
The High School Musical 3: Senior Year soundtrack.
Paul Van Dyk's Hands On In Between.