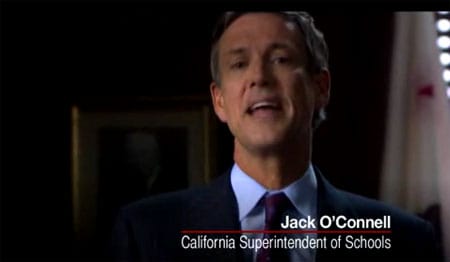 A new 'No on Prop 8' targets the lies that have been spread by the 'Yes on 8' groups that the measure would somehow affect teaching or the curriculum in public schools. It contains a statement by California State Superintendent of Public Instruction Jack O'Connell to that effect.
And here's some good news. A new Public Policy Institute Poll shows that Proposition 8, the constitutional amendment to ban same-sex marriage, is losing (52% to 44%) among likely voters. It also shows that in California, "likely voters prefer Sen. Barack Obama for president over Sen. John McCain by a 23-point margin, a 13-point gain since last month."
Here's the PPIP poll report in PDF form with analysis from the San Jose Mercury News and the L.A. Times.
Help push this over the edge. Donate to the 'No on Prop 8' campaign HERE.
Watch the new ad, AFTER THE JUMP…
Donate to the 'No on Prop 8' campaign HERE.