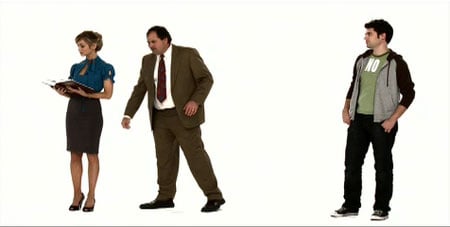 As you hopefully know, anti-gay marriage foes are pumping millions of dollars into the ballot measure (Prop. 8) that would define marriage as between a man and a woman and take rights away from millions of people.
Take a look at this viral spot for "No on Proposition 8" produced by HOMOtracker, a small group of gay and lesbian Hollywood industry professionals, in an effort to mobilize and defeat Proposition 8 on November 4th. It's one of a series of message ads that are based on the well-known, successful, and oft-imitated "Mac vs. PC" script. In this case, the script works wonderfully. I'm happy to debut one of the spots here on Towleroad.
We've put this in a player which also allows you to donate and post the video on Facebook and a number of other social networking services in hopes to get the message out and raise money to fight Proposition 8. I cannot stress enough the implications this ballot measure will have on the nation and our rights.
There's another version on Pink is the New Blog. I've heard a few others will be popping up on Defamer and Huffington Post. Two of the other spots also feature Margaret Cho and Mollly Ringwald.
Said Andrew Oldershaw, a producer who is part of HOMOtracker, and helped initiate the project:
"A few short months ago I was at a table with my friends Dayna Frank, Angel Lopez, Courtney Sexton & Todd Shortz talking about the November ballot initiative. At that time, the opposition had recently succeeded in getting the measure on the ballot. We just felt like we needed to contribute somehow, to bring a megaphone to the voices of LGBT young people in Los Angeles. We felt that if we addressed the issue with the right combination of levity, respect and impact, we'd be able to accomplish two things: galvanize the community of LGBT and LGBT-allied voters and change a few minds of those currently undecided. The result of that little powwow are four PSA's parodying the MAC vs PC commercials, thanks to the collaborative talents of writers Ray Lancon, Grant Sloss, producer Chris Pannizon and directors Dan Kay & Jonah Markowitz, actors Chris Bruss, Margaret Cho, Mathilda Gianopoulos, Panio Gianopoulos, Selene Luna, Molly Ringwald, Bob Stephenson, Katie Walder and the entire crew."
Added Oldershaw: "Our goal in creating these shorts was to shine a fresh light on this issue, as a call-to-arms for our gay and lesbian brothers and sisters and to hopefully change a few minds on the other side of the battlefield and those caught in the middle."
Please share the above video liberally, and donate to "No on Prop 8".
One more version, AFTER THE JUMP…
HOMOtracker [official site]