Killer gets 22 to life for the 2001 murder of Queens, NY resident Edgar Garzon.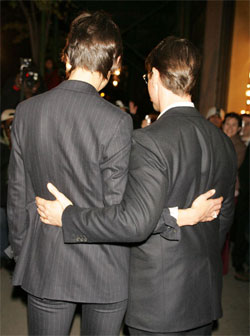 New trend for Scientologists: dressing like a gay couple.

West Virginia votes being flipped from Democrat to Republican: "This is the second West Virginia county where voters have reported this problem. Last week, three voters in Jackson County told The Charleston Gazette their electronic vote for 'Barack Obama' kept flipping to 'John McCain.' In both counties, Republicans are responsible for overseeing elections. Both county clerks said the problem is isolated. They also blamed voters for not being more careful."

Protect Marriage bus to wind through California for 8 days urging voters to ban same-sex marriage.

Guy Ritchie convinced Madonna is spying on him. A-Rod moves in.

Ugandan Ethics and Integrity Minister on gays: "Ten years ago, this phenomena was not there, but the disease has penetrated everywhere. Who's going to occupy Uganda 20 years from now if we all become homosexuals? We know that homosexuals don't reproduce. There is now a globalization of homosexuality and people in Uganda are attempting to take advantage of the globalization. It is an attempt to end civilization. It is that serious."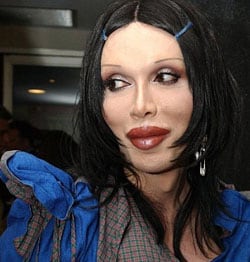 Former Dead or Alive singer Pete Burns to receive £1million payout for botched cosmetic surgery: "The former Celebrity Big Brother contestant said he suffered horrific side effects from the 'trout pout', including painful swelling and blisters so severe he could not eat, drink or speak. He claims he was left with weeping sores, felt suicidal and looked so 'physically repulsive' he could not leave the house for seven months."

9 of 15 members of American River College's student association face recall vote following uproar over vote to support Proposition 8.

Log Cabin Republicans respond to Palin's break from McCain on federal marriage amendment: "We disagree with Gov. Palin on this issue, but we're glad that Sen. McCain agrees with us. The president sets the policy for the administration. Sen. McCain twice voted against the federal marriage amendment and continues to believe the states should decide this issue."

Darwin: New Zealand man injured while car-surfing and mooning other vehicles.

Lucky us: MTV brings the banality of The Hills to the Big Apple.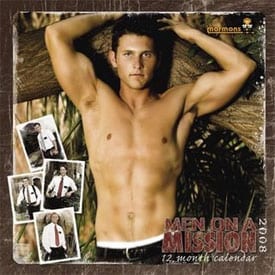 Sexy Mormon missionary calendar creator has diploma yanked by Brigham Young University.

Vote delayed on gay high school in Chicago: "Chicago Public Schools CEO Arne Duncan said Friday that the school board would see the plan Nov. 19. The proposal was originally supposed to be considered Wednesday. Duncan gave preliminary approval for the the Pride Campus of Social Justice High school earlier this month. The high school be open to all students citywide but would provide a safe, 'gay-friendly' atmosphere."

Two Methodist women offered historic credentials: "Two women blocked from ordination as United Methodist ministers because one is a married lesbian and the other disagrees with church rules on gay rights received "extraordinary ordination" in Baltimore yesterday."

Obama canvasser punched in the face by a man ranting about ACORN receives personal call from Obama.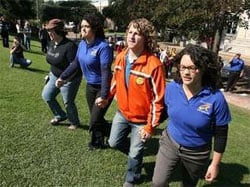 Soulforce bus riders arrested at Mississippi College.

NYT: Tap water safer than bottled water. "The Environmental Working Group released a report Wednesday that charged that some bottled waters were 'no different than tap water.' And it found fertilizer residue, pain medication and other chemicals in some major brands."

Two men who created Social Justice course for British Columbia high school students sue school board for refusing to offer the class: "Social Justice 12, an elective for senior students, was created as a result of a contract the province signed with the Correns in 2006 to end a long-standing human rights complaint that the curriculum discriminated against gay, lesbian, bisexual and transgendered students. Abbotsford officials say they're reviewing the course because of parental concerns, and the board has not yet decided whether it will be offered in future."