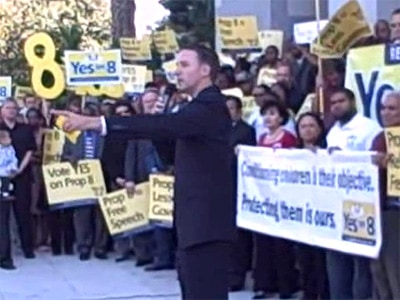 I've been informed by the "No on Prop 8" folks who have been tracking donations from this site, that, since yesterday, Towleroad readers have contributed $11,925 for a total of $89,568.11. That's stunning, folks.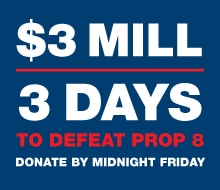 Can we get it to $100,000?
The campaign is pleading urgently for donations in response to a surge in funding from the other side and what looks to be a huge push this coming weekend from the anti-gay zealots.
The national implications of defeating Proposition 8 could not be greater.
Check out this clip of Brad Dacus, a spokesperson for Yes on 8 and the head of the bible-beating Pacific Justice Institute, at a rally in Sacramento comparing gays to Nazis.
"There was another time in history when people, when the bell tolled. And the question was whether or not they were going to hear it. The time was during Nazi Germany with Adolf Hitler. You see he brought crowds of clergy together to assure them that he was going to look after the church…"
Watch the hate, AFTER THE JUMP…
We cannot let these people deprive us of our rights. DONATE to 'NO on Prop 8 now, if you can. There is a day and a half left to the deadline. Thanks.