Potential AIDS breakthrough following bone marrow transplant in Berlin: "The startling case of an AIDS patient who underwent a bone marrow transplant to treat leukemia is stirring new hope that gene-therapy strategies on the far edges of AIDS research might someday cure the disease. The patient, a 42-year-old American living in Berlin, is still recovering from his leukemia therapy, but he appears to have won his battle with AIDS. Doctors have not been able to detect the virus in his blood for more than 600 days, despite his having ceased all conventional AIDS medication."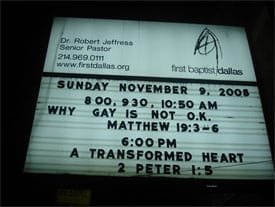 Writes Sam Fulcher to the Dallas Voice: "I found it ironic and sad that on a night of such history and hope I was greeted with a sign stating 'Gay is Not O.K.' As one barrier is being shattered homophobia is alive and well and still accepted enough to be on the side of a building. The recent passing of bans on gay marriage in many of our states make this point even more obvious." Fulcher is organizing a protest of the church on Sunday.

Not sure how they're ever going to make a Broadway musical out of THIS.

Ex-Councilman in NYC Philip Reed dies at 59: "Philip Reed, a former elevator salesman who devoted himself to health issues as a member of the New York City Council, where he was a pioneer as a black, openly gay and H.I.V.-positive lawmaker representing a mostly Latino district, died on Thursday."

Live puppies!

GLSEN slams The Simpsons for "That's so gay" line: "Nelson's use of 'that's so gay' in a negative way is not surprising considering that 90 percent of lesbian, gay, bisexual and transgender youth say they hear the term used this way frequently or often at school. Nelson should visit ThinkB4YouSpeak.com where he can send an apologetic e-card to Milhouse. GLSEN would also welcome Nelson's participation in our next PSA so he can make amends by helping to educate young people about why such language is wrong."

Studio: Sex and the City sequel confirmed.

UN urges India to decriminalize homosexuality: "he United Nations has urged India to decriminalise homosexuality, saying it would help the fight against HIV/AIDS by allowing intervention programmes like the successful ones in China and Brazil."

Silverton, Oregon resident Stu Rasmussen becomes first openly transgender mayor of a U.S. city.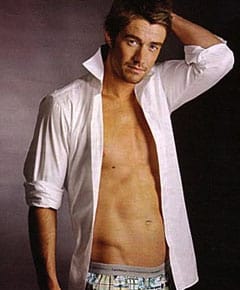 Robert Buckley answers the 'boxers or briefs' question.

Eliot Spitzer will not face criminal federal prostitution charges: "The announcement, a five-paragraph statement from Michael J. Garcia, the United States attorney in Manhattan, ended almost eight months of uncertainty for the disgraced governor, whose lawyers had been quietly making their case to the country's most prominent prosecutor's office that he ought not be charged. And it ended the possibility that Mr. Spitzer, once an aggressive prosecutor himself, would have his private life explored in a public criminal case."

Fun with presidential maps.

Britain's Ministry of Defence pays compensation to gays discharged unfairly: "The Ministry of Defence has paid £4 million to settle a series of compensation claims from homosexual service personnel who were unfairly dismissed from the Forces. The payout has been pending since 1999 when four staff won their case in the European Court of Human Rights. The MoD disclosed this week that it had paid £3.7 million last year to 57 former staff who had also brought legal action. This was in addition to £300,000 paid to eight homosexual staff over the previous two years. Of the 65 people who have settled a claim against the MoD for its ban on homosexual staff, the average payout was £61,500.

Rihanna passes out on stage.