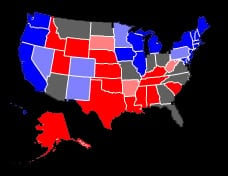 I can't believe that the vote is nearly upon us. After eight long years of Bush, the nation looks set to take a historic hopeful turn, and I know many of you are as ready for it as I am. Tomorrow morning I'll be voting and then joining you back here. Tomorrow afternoon, starting at about two, we're going to begin live-blogging. At that point I'll probably be bringing you a mix of the regular news plus whatever election news has come across the wire.
My behind-the-scenes partner here Michael Goff will be joining in the live-blogging and, at some point, Corey Johnson, who you saw on-camera for us at the Democratic National Convention in Denver. I believe guest blogger Matthew Rettenmund of boy culture will be joining us at some point, and hopefully a few others.
You're welcome to participate with us here, or the live blogging feed we implement can be embedded on your own site. We'll be running moderated comments so feel free to share news and commentary from where you are. We also welcome tips at the [email protected] email if you have any interesting photos from election day or video links to share with us.
We're also piping in the status updates and posts from all the friends of Towleroad Blog on Facebook. (If you're not our friend yet, today's a great day to add us. Search for "Towleroad Blog" on Facebook) or find it HERE:
Also if you're on Twitter or Friend Feed, we'll be picking up comments if you include @tlrd or #tlrd in your message/tweet.
And remember, VOTE!