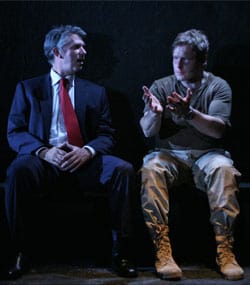 The son left behind is seven years old but is played by an actor in his early 20s, Gio Perez. At first such casting just adds to all the disjunctiveness, but Perez is giving such a singular and unsentimental performance that I began to look past how weird it was to be watching him portray a child and realized that Perez and his director Alex Timbers had transformed that weirdness seamlessly into the performance of the precocious child himself. Perez is giving one of the most jaw-droppingly effective performances of anybody in New York right now. And it's great to rediscover Hayden, who has wowed me in the past as Billy Bigelow opposite Audra McDonald in the Lincoln Theatre Center production of Carousel and an earlier Roundabout production of All My Sons. Other fine work was done by Natalie Gold, as Hayden's wife and Perez's mother, Michael Warner as Clinton, and especially Maggie Burke as the neighborly busybody with a tragedy in her own life that she tries to numb by being so overly neighborly.
I kept wondering though – during the play's repetitive moments – if Timbers had gotten a job directing a play with such a title because of his name instead of his brilliant work as Artistic Director of the inimitable off-Broadway company Les Freres Corbosier? Not a good thought to have when the play was trying so hard to move me with its theme of how grief is an isolating emotion that is so difficult to share. Or, as this lovely but flawed play attests, to transcribe.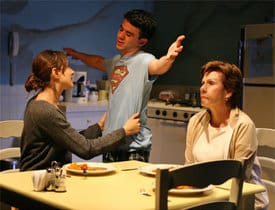 Another explanation of a title. It comes from the Bertolt Brecht line: "What times are these when a talk about trees is almost a crime because it implies silence on so many wrongs." The play, in which the translator convinces his young son that trees have a language all their own if we only listen to them closely enough, is more than an indictment of the Bush administration's geopolitics; it is a quiet cri-de-coeur of how the personal is always disquietingly political.
T T (out of 4 possible T's)
The Language of Trees, Roundabout Underground, Black Box Theatre at the Harold and Miriam Steinberg Center for Theatre, 111 West 46th St., New York. Ticket information here.
Next up: off-Broadway's Back Back Back and Farragut North – with more undiscovered actors as well actors, already discovered, who are proving why they were in the first place.
Recently Reviewed
On the Stage: All My Sons and Speed-the-Plow [tr]
On the Stage: A Man for All Seasons [tr]
On the Stage: Equus and The Seagull [tr]