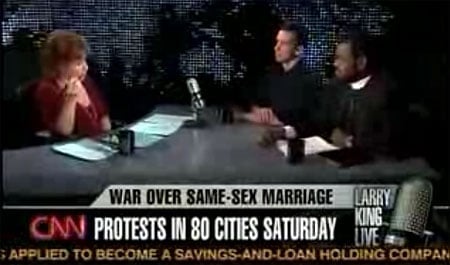 Here's the second half of the Larry King Live Prop 8 special from Friday night that I was looking for this morning. The first half featured Cynthia Nixon. The second features Gavin Newsom, Dan Savage, Bishop Harry Jackson, Rev. Jim Garlow.
On Saturday, Dan Savage wrote on his site what he wished he'd said on Larry King:
"Well, amongst other things: When political attacks are launched from churches, political responses will be delivered to churches. If goddamned McDonald's had organized and paid for Prop 8, we'd be marching on goddamned McDonald's."
Watch it, AFTER THE JUMP…
Here's the first half.