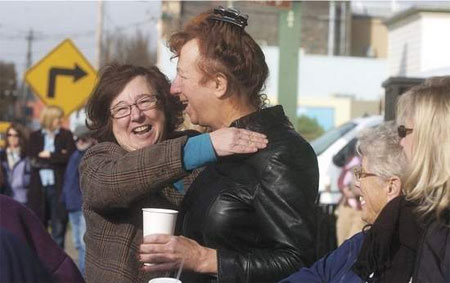 Last week, Fred Phelps' Westboro Baptist Church announced its plans to travel to Silverton, Oregon to inflict its hate upon the town's residents and its newly-elected (and first in the nation) transgender mayor Stu Rasmussen. The action was reported in the L.A. Times: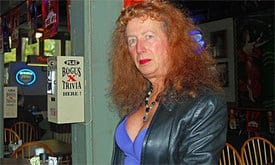 "The Westboro Baptist Church of Topeka, Kan., known for its protests across the country targeting gays, plans to picket Monday in downtown Silverton 'to speak some words of truth to this 60-year-old pervert,' according to the church's website."
Turns out WBC got more than they bargained for:
"The counterprotesters outside City Hall in this Marion County town Monday significantly outnumbered the protesters who inspired them: three young women and a man from a Kansas church, here to register their disdain for the recent election of the nation's first openly transgender mayor, Stu Rasmussen. The quartet spread out along one side of North Water Street, feet planted on American flags spread on the sidewalk and hoisted large laminated posterboards on each arm. Double-sided and easy to read from passing vehicles and local television trucks positioned half a block away, the signs offered assorted damnation — 'Barack Obama = Antichrist,' 'God Hates You,' 'You're Going to Hell' and 'Fag Media Shame.'"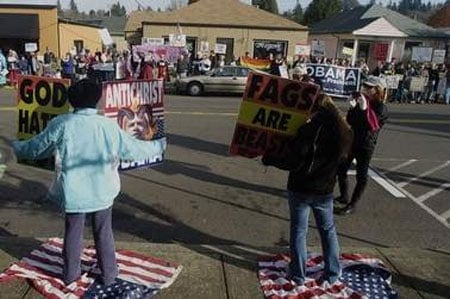 And it sounds like it was a real showdown:
"The counterprotesters were waiting across the two-lane street — men in skirts and boots, moms with babes in arm, lifelong Silverton residents alongside kids playing hooky from Salem schools. The crowd of about 150 waved and drummed and hugged. Their signs, homemade, hurriedly produced on office laser printers and painted on the back of campaign yard signs, focused on the positive. 'My love is bigger than your hate,' read one. 'We love Stu (and so does God).' 'Everyone is welcome in Silverton.' For nearly an hour, the two sides faced off in a tense demonstration of wills. The cool air was mostly quiet, except for passing pickups and school buses. One Kansas visitor mumbled a riff from Aerosmith's hard rock ditty, 'Dude looks like a lady.' Another pointed a stone smile at boys who threw curses out the windows of passing cars. When the church members began to chant, a man beat a drum to drown them out."
Watch a news clip about the protest (shot beforehand) and video of the protest itself, AFTER THE JUMP…
Anti-gay group no match for Silverton [oregon live]
Silverton rallies against church's hate message [statesman journal]
Statesman Journal photo gallery [statesman journal]
It's okay to have a little temper!
The pre-protest news report: